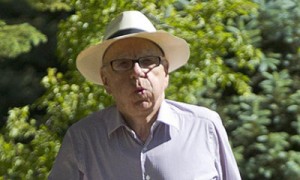 News Corporation boss Rupert Murdoch will arrive in London later to take control of the phone hacking crisis at the News Of The World.
The chairman's reported intervention comes as a third man was arrested and bailed in connection with alleged corrupt payments made to police officers.
Sky News understands the 63-year-old man, who was arrested in Surrey, is a private investigator who worked for the newspaper.
Former NOTW editor Andy Coulson and former royal reporter Clive Goodman were released last night on police bail after being arrested earlier.
Mr Murdoch is due to arrive in the UK on a flight some time today.
Sky reporter Hannah Thomas-Peter, in New York, said: "He presided over the decision to axe a favourite newspaper in order to stop the rot – a phrase used here a lot.
"The idea was to send a message to investors and shareholders that News Corporation is serious about protecting the Murdoch brand and the proposed takeover of BSkyB.
"It is clear at the moment that it does not look like he has been able to stop the rot, so he himself is getting on a plane to fly to London to deal with it."
Meanwhile, News International's chief executive Rebekah Brooks hinted to staff that more revelations were ahead, warning of "another very difficult moment in this company's history".
She met News Of The World employees and defended her decision not to resign, saying she wanted to "fight and get this paper's reputation back".
In a recording of the meeting leaked to Sky News, she appeared to suggest further damaging revelations were ahead and added "in a year's time every single one of you in this room might come up and say, 'OK, well I see what you saw now'".
News International also denied reports that police are investigating suspected deletion of emails by an executive at the company.
The Guardian reported that Scotland Yard is probing claims that a member of staff deleted "millions of emails" from an internal archive.
Police refused to comment on the reports.
After his release from Lewisham police station, in southeast London, last night, Mr Coulson said: "There is an awful lot I would like to say, but I can't at this time."
The 43-year-old, David Cameron's former director of communications, was released on police bail until October.
Mr Goodman, who was re-arrested by police in connection with alleged police payments, has also been released on bail until October.
The 53-year-old was held after a dawn swoop by officers at his home in Surrey.
Officers conducted a search of his property and his desk at work at the Daily Star Sunday, as well as Mr Coulson's residence.
Mr Goodman was jailed in 2007, along with private investigator Glenn Mulcaire, for hacking into phones of royals, including Prince William.
Mr Coulson resigned from Downing Street in January this year, saying the drip-drip of claims about hacking under his editorship was making his job impossible.
The reports concerning Mr Cameron's former aide follow Thursday afternoon's news that this Sunday's edition of the best-selling tabloid is to be its last.
The axe fell on the newspaper after a series of increasingly damaging phone hacking allegations left its reputation in tatters.
James Murdoch, chairman of publisher News International and son of Rupert, said the 168-year history of Britain's best-selling paper would end after Sunday's publication.
The bombshell announcement came as advertisers deserted the paper in droves and police revealed 4,000 people may have had their phones hacked.
Voicemail messages targeted included those of murdered schoolgirl Milly Dowler, bereaved military families and relatives of 7/7 bombing victims.
The NOTW also stands accused of paying thousands of pounds illegally to corrupt police officers.
Source : Orange News