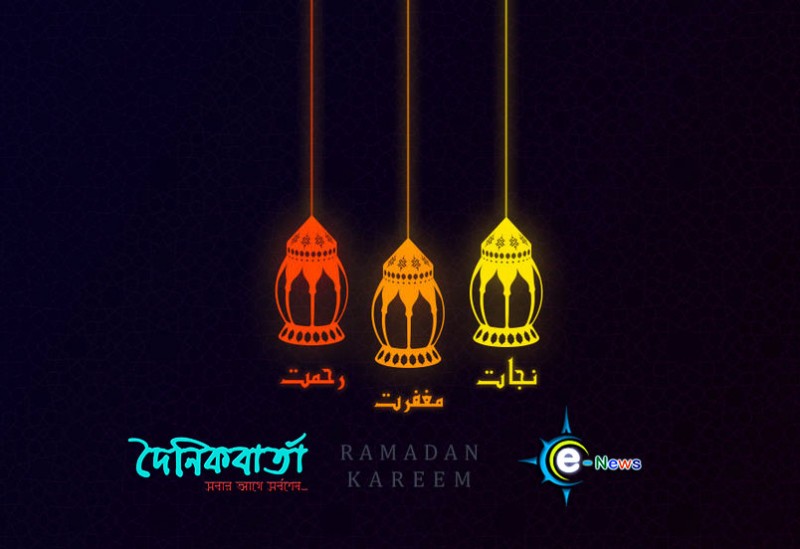 e-News® | The NEWS Company…Dhaka, June 17, 2015 : Avoiding eating, drinking and getting angry before sunset is tough during fasting month – but these apps can help keep prayer time, habits and diet in check, The alarm on your phone buzzes at 2:39am. Bleary eyed, you wolf down your toast and sip your water in the last minute before the day of fasting begins. No eating, no drinking, and no getting angry before sunset. You roll your eyes as your phone pings with notifications of yet another message with a mosque emoticon, or a cheesy "I have a date every night in Ramadan" joke. The fast begins.
Yes, it's that time of the year when Muslims observe the month of Ramadan, and app makers are finally tapping into the billion-dollar Muslim lifestyle industry. Much like how supermarkets have recently begun rolling down the "Ramadan Kareem ☪" banners in aisles dedicated to halal Haribos and samosas, now when you scroll down your "Muslim" search on the app store, you'll see that the market is saturated with handy apps – for prayer times and directions, Qur'an exploring and even directories of halal restaurants.
So which ones are worth downloading to up your spiritual game for the holy month?
1. al Quran By Sayed Samed
If you come across people reading their pocket Qur'an on the tube in the next few weeks, it's because Muslims believe that their holy book was revealed to the prophet Muhammad during Ramadan, and it's customto spend more time reading it this month. So Qur'an apps such as al Quran are pretty handy: it's possible to read the entire text, its translations and listen to commentary in various languages – important for a global audience. The app also allows users to search the text, and listen to verse-by-verse recitation.
2. Zabihah By Halalfire
Do you feel like tucking into hummus and falafel to break your fast, or are you craving fried chicken? Well, this is a useful guide for halal food-seekers and the app geo-locates your closest restaurants, markets and mosques. With this app, foodies are able to read and write reviews, review the halal authenticity, view opening times, prices and even prayer accommodations. It features 75,000 user reviews of over 20,000 restaurants, according to it's website.
3. Muslim Pro (Ramadan 2015) By Bitsmedia Pte Ltd
You're on the road and the sun is going down, but you're not sure when exactly you're meant to bite into the date in your hand? For that, Muslim Pro is a user-friendly app with large icons, which will notify those observing Ramadan accurate prayer times. Users can choose whether they want visual or audio notifications – and even have the call to prayer announcing it is time to break the fast.
4. Ramadan Legacy By Ramadan Legacy Limited
A new app that has launched in time for this year's Ramadan, and provides users with an interactive timeline of their Ramadan achievements throughout the month. It has a clean design and works by asking you what your personal goals are for the month, and encourages you to achieve them through inspirational reminders. There is also a social element, and users are able to share their Ramadan photos or reflections with other users across the globe in their live stream.
5. Good Habits By Good To Hear
There is a Muslim saying that regular constant deeds – however little – are better than ones you may do once in a while. Yet this app will be useful for anyone, during and outside of Ramadan if you want to set a reminder for yourself to do the little tasks. It doesn't offer pre-determined checklists and it's easy to add the habit you want to pick up: by clicking the "+" symbol on the top right and adding the habit name, time, colour-code and days you want to carry out the habit.
6. Calorie Counter & Diet Tracker By MyFitnessPal.com
Although scientists are uncovering evidence that fasting – in a balanced way – can have health benefits, during Ramadan it can sometimes be tempting to feast on a spread of delicious food and finger-licking wholesome oily snacks – undoing all the earlier self-restraint. So watching the calories with a tracking app may be handy.