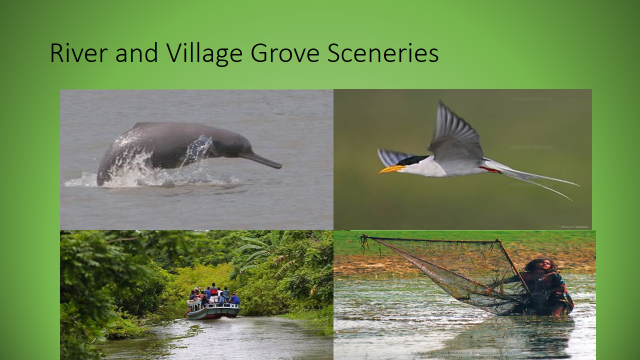 #thenewscompany : Life often becomes bored and tiresome while overworked. To ease the living meaningful and joyous, travel in nature, watching wildlife helps life healthy, mental refreshment and rejuvenation. There are wilderness areas in around Dhaka where you can visit and enjoy the tranquility of nature in leisure. Rivers in Bangladesh historically an important destination of tourism. Peoples are very much fond of cruising rivers for enjoying the natural beauty and the colorful riverine life and livelihoods. Charlands are major natural formation of rivers hydrodynamics and are good abode of wetlands flora and fauna. The erosion and accretion of charlands are known to public but its scenic beauty and pristine nature is less exposed.
Around Dhaka the capital city of Bangladesh you can pay a day visit in the rivers the Padma and Jamunawith less cost and smooth travel.
Get a public bus from Abdullahpurof Uttaraor fromGabtoli bus stand at Mirpur for Aricha, the old ferry station in ShivalayaUpazilla of Manikganj District. On your way to Shivalaya you can see the green fields on your both sides. People are busy in their daily life. Lots of Industries and other structures in the roadsidewill block your wider view. But just after Manikganj bus stand your vision would be clear and wider as less industries and structures are there.
If you travel by private vehicle you can follow two routes to reach the banks of rivers the Padma and the Jamuna. From Dhaka to Manikganj via Jhitka Bazaar to BahadurpurGhat at the Padma or from Dhaka to Zafarganj via Uthali Bazaar of ShivalayaUpazilla on the bank of the river Jamuna. The approximate distance is around 130 km.
You can visit one of the old Zamindars House at Teota on the bank of river Jamuna at Shivalaya and National Poet KaziNazrul Islam's father in laws house located there.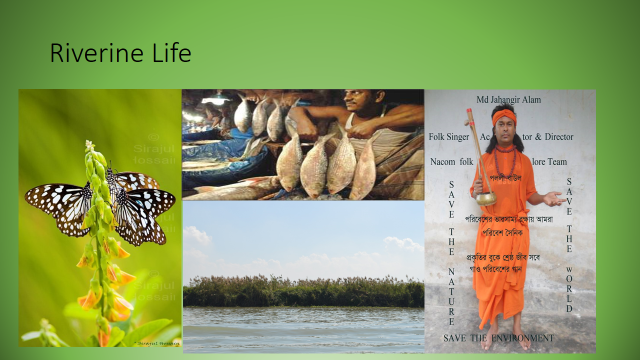 The main attractionsin cruising river and walking in the sandy charland are:
– You can enjoy swimming in the river, sunbathing in the sandy beaches.
– You will be amazed watching water birds and birds of prey living in the charlands. If the season is winter you may encounter more than 50 species of migratory birds wintering in the charlands in thousands.
– If you are luckyenough, you may see the basking turtles on the sandunes, surfacingof GangesRiver Dolphin and hovering of kites and kingfishers. Bank mynas are commonly seen nesting on the river banks digging holes in hundreds.
– Charland vegetation, the grass and reedlands are home of good numbers of Mnia, Prinia, Weaver birds, Warblers and Sand larks.
We have diverse anthropological ethnicity along the river and charlands like Pala, Rajbansi, Koivarta, Malo, Mog, Rakhain, Kumar, Kamar, Bede, Maji-malla and Char dwellers those who represents the riverine, culture and history. All these endemic community are being still retaining the river culture and heritage in their life-style in various forms. Mentionworthy some of the components you may noticed during your travel in the charlands are as follows.
• River folk culture (Bhatilaly, Jari, Sari, Polligity)
• Countless diversity in country boats (Dinghy, Goyna, EkMallaya/Dongha/Panshi/Vazara/Chip/Baich)
• Over hundred types of indigenous fishing gears
• Diverse fish retaining/rearing cases, baskets, boxes, nets made from bamboo, rattans, jutes, coconut fibers, paddy straws and aquatic weeds, etc.
• Huts in charlands made out of bamboos, grass, reeds, Paddy straws, jutes, woods and mud, etc.
• Cooking utensils from woods, bamboos and aquatic weeds
• Earthen potteries
• Charland horticulture and swamp forestry (Hijalmohal)
• Charland buffalo/cattle/sheep grazing (Garubala/Mahisabathan)
• River sports (swimming, diving, boat race, game fishing)
• River birds hunting (guns, traps, nets, baits)
• Hunting of Dolphinand Turtles
• Fishing by feral otters/cormorants/water cocks
• Floating agriculture (Baira)
• Peatand weeds-based firefuel
• Pink-pearl extraction from Mollusks
● Preparation of lime from mollusk shell through burning
• Aquatic weed-based compost/bio-fertilizer/fire-fuel/charco
• Rivers "Kumar mati" based earthen pottery hubs
• Diving with dolphin
• Cruise in indigenous boats
• Floating Bede village
● Indigenous boat racing
• Monsoon festival
While in the charland please follow the DO s and DON'T s like…
• Ensure personal safety and security first
•Beware about the quicksand in the newly accreted charlands
• You should have use life jacket to avoid drowning in case.
• Show respect to Local communities life and living
• Dress as you like keeping in mind the village atmosphere
• Light clothes may be preferred
• Bring Blanket for overnight
• Keep cap/umbrella , kades /chappals, towel and torch lights
• Take personal toiletries and first aid with you
• No dumping of waste material other than designated bins
• No trace pass in any private properties/house/para without permission from the owners
• No, hunting, shooting, trapping and disturbing wildlife
• No swimming without Life Jacket by the kids and person unable to swim
• Mange waste generated by yourself
Anisuzzaman Khan, Fellow Ashoka Innovators for the public