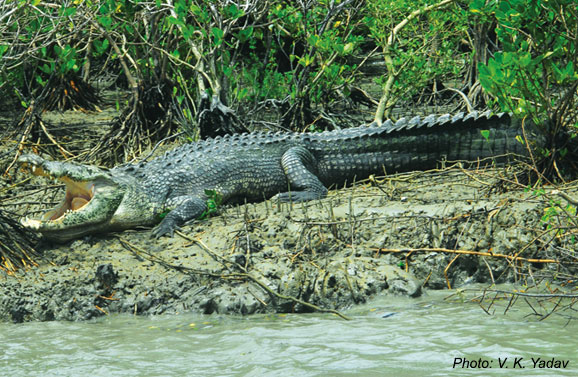 #thenewscompany :  There is a forest patch inside Sundarbans named after Black Berry (Jam) "Jaamtoli". This is a forest station where the berry plants are dominant species. All most all creeks, canals and rivers around Jaamtoli are good abode of this species. The fruits are very sweet, smooth, soft and tasty.
The banks of the canals, creeks and rivers are muddy slopes sparsely covered with Uri grass. There lived troops of monkey on the trees of the black berry groves. They are very much fond of ripen matured berries. The berries are in good abundance and monkeys are enjoying fruits lavishly. Eating a few and throwing a large quantity of fruits is the usual behavior of the monkeys. The waste and half eaten fruits were fallen on the soft mud in huge quantity. On the same spot there also lived a family of crocodiles. They were living lazy life resting and busking day time on the inter-tidal mudflats. During their sun-bath the crocs are usually keeping their mouth open for a long duration. Once a ripened black berry was fallen into one croc's. mouth. He was unwillingly eaten up the fruit and really got satisfied with the sweet and juicy taste of the fruit. The croc was adult male member of his family. He wakened up and devoured a lot of black berries. He gets a deep pink color on his tongues. He was so amazed in tasting the fruit first time in his life. He looked up above and noticed that a group of monkeys are having their fruit dish very reluctantly. He then called the troops leader of the monkey. Hi! Dear friend, thank you for felling the fruits. I really enjoyed the meal. I shall be here again and again. May I take some fruits for your dear " Bhabi" . Ohh sure… why not? Please take as much as you can replied by the troop leader. Take care, Bye. The croc took some fruits and left the place for his home in the nearby sandunes of the Charlands. After having a good swim, he reached at its home with a romantic laugh in his face. He called his wife several times but there is no reply from the den. The croc then crawled faster and reached at the door of his den. His wife was shivering and making noise of having massive pain. Oh.. Dear I got high fever and I can't bear the pain. Please check the temperature and call a doctor for me. Caring husband replied, please darling don't worry I have some superb natural healing medicine with me. You will be cured very soon dear. No… dear this will not work as because I am habituated in allopathic medicine. I don't like to have herbal one at all. Please call the house physician at once. It is not an influenza, it might be Kalahazzor . Husband got very much annoyed and said that ok dear I will be going to the doctor by next high tides. Before that please try this black berry once. By out of curiosity, the wife of the croc tested a small fruit slowly and chewed the juice cautiously. Then the other one, next one and finally devoured all the fruits. OMG it's something from haven. I could not imagine and express the taste of this heavenly fruits. It's really very testy and delicious as well. I had never had the taste like this. She uttered that from where you manage this fruit? The husband replied with joy, "I got it from one of my friend living at Jaamtoli Island. He is HolaBandor one of my good friend.
Wife told very cleverly that the monkey he who eats this type of sweet fruits regularly, the liver and kidney of that monkey might be more sweetened than the fruits. Please invite your friend and I want to eat his liver and kidney and this would definitely cured me forever and I will be safe and healthy. The croc. was felt very much sad and expressed his sorrow quietly . I would not be able to betray my friend. Sorry, forgot your ill wishes. The wife was so "Nachorbanda" that she finally wins in motivating her husband in agreeing to bring the monkey in crocs den. I will not guarantee you. Because, so far I know the monkey belongs to a platoon and possibly – well-trained armed cadres are behind him. It is not as easy as you thought.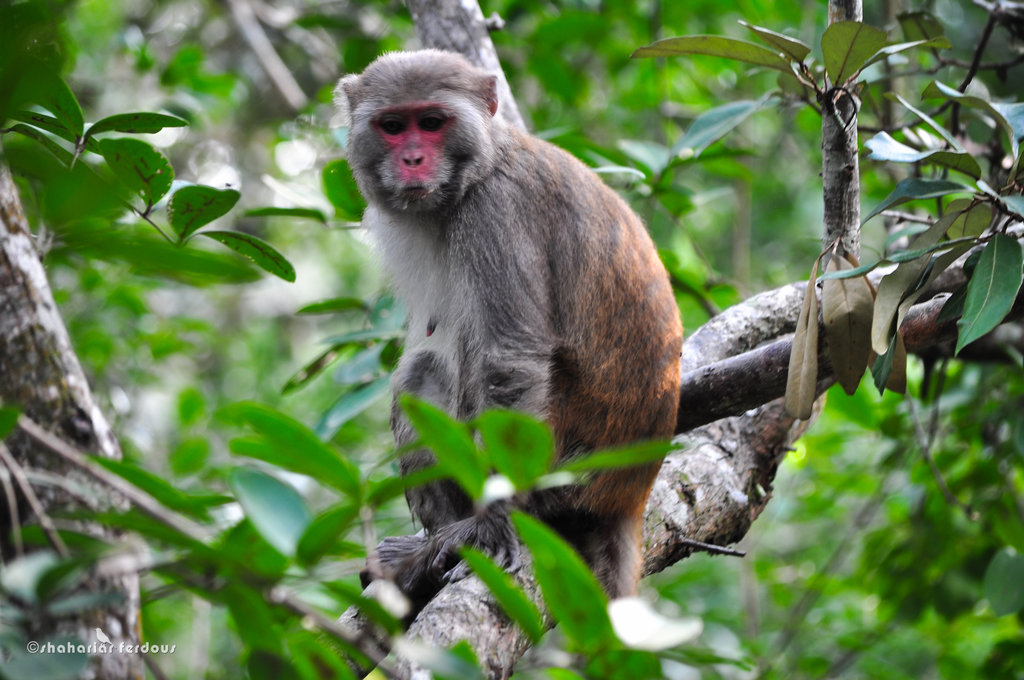 With a sad mood, the croc reached at Jaamtali and crawled below the tree where the monkeys were sitting. He then called the monkey and invited him to his home in the Charlands. Monkey was also saddened by listening the fever and illness of crocs wife. He agreed to meet and spend some time with the friend's family by gossiping. The monkey gets down from the tree and ride on the back of croc. Croc was swimming to his home. He was thinking that how he will say to monkey about the wishes of his wife. After a short vacillation in mind, he told the monkey that his wife is willing to eat your liver as a medicine of all ill "Panacea". Monkey after listen the horrifying words and knowing the conspiracy got very much shocked and felt in a panic. But the monkey by their own courage and cleverness just started laughing loudly. The crock asked… what happened to you? It is a matter of your life and death. Monkey replied that you are not a wise friend. Why you didn't tell me before? I had left my Liver hanging on the branch of the tree. If you told earlier I would have been happy to wear my liver and give that as a gift to my Bhabi. Ok don't be tense, let us go back to Jaamtali and fix my liver in my body. The croc makes a backwards swim to the monkey's house. After reaching near to the bank of the river at Jaamtoli, the monkey jumped up from the back of the croc and climbed the tree, reached at the upper canopy and took a long deep breath. Thanks God! After rest a while, the monkey shouted to the croc waiting below… Shame! Shame! You the foolish croc. who said the liver could be kept outside the body. Go back to your charland, never come to my pavilion at Jaamtali and never try the fruits. You the traitor keep feeding on fish and avoid basking on land which is my territory…
Anisuzzaman Khan
Fellow, Ashoka Innovators For the Public