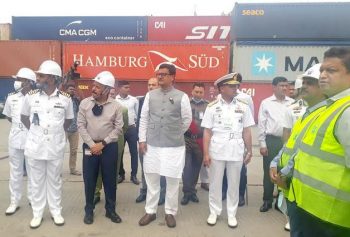 #thenewscompany : State Minister for Shipping Khalid Mahmud Chowdhury today said scanners will be installed at every gate of Chattogram port for easing import and export activities in the country's prime seaport.
"All ports in the country, including land ports and Mongla port, will soon get scanners," he said. Shipping Minister Khalid Mahmud Chowdhury said this while visiting Newmooring Container Terminal of Chattogram Port this morning. He said an organized group is playing a strong role so that scanners are not installed in Chattogram port's gate so that digital Bangladesh is not implemented here.
Khalid Mahmud said the government, under the dynamic leadership of Bangabandhu Prime Minister Sheikh Hasina, is doing everything to transform Chattogram port into a digital hub for enhancing business activities.
Terming Chattogram port as the lifeline of the country's economy, Khalid said, "Chattogram Port is ready to handle the pressure of increasing number of ships," he added. Chairman of Chattogram Port Rear Admiral M Shahjahan, Member (Administration and Planning) Zafar Alam, and Member (Engineering) Captain Md. Mahbubur
Rahman, among others, accompanied him.