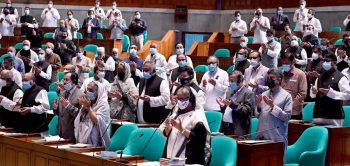 #thenewscompany : The Jatiya Sangsad today unanimously adopted a condolence motion expressing profound grief over the death of Deputy Speaker of the Jatiya Sangsad as the liberation war veteran died  on July 22 in New York at the age of 76.
The House also adopted the condolence motion at the death of Japanese Prime Minister Shinzo Abe, Japan's longest-serving prime minister, died after being shot on July 8 while giving a campaign speech.
Abe, who was 67 years old, was prime minister until late 2020 and was one of Japan's best known politicians.
Speaker Shirin Sharmin Chaudhury moved the condolence motion at the outset of the nineteenth session of the 11th parliament held at the Jatiya Sangsad Bhaban here.
.
The parliament also adopted condolence motion due to death a former member of the Constituent Assembly of Bangladesh and other four ex-parliament members.
The deceased includes valiant freedom fighter and one of the organizers of liberation war Abu Saleh, former lawmaker of third national parliament Abbas Ali Mondol of Jaipurhat-1, former lawmaker of fifth jatiya Sangsad Karimuddin Bharasa of Rangpur-1, former lawmaker fourth Jatiya Sangsad Mohammad Shoaib of Dinajpur-5 and another former lawmaker of tenth jatiya Sangsad Khurshid Ara Huq of Women reserve seat-50.
The parliament also expressed condolence over the death of an office assistant  of the parliament secretariat Rahima Khatun.
Besides, condolence was poured at  the jatiya sangsad over the death of noted archaeologist and former Director General of the National Museum Prof Dr Enamul Huq, noted musician and freedom fighter Alam Khan, veteran freedom fighter Abu Musa Chowdhury, former Advisory committee member of the Awami  League and former Secretary ATM Shamsul Huq, AL advisory council member Mukul Bose, Bangladesh Awami Swechasebak League President Nirmal Ranjan Guha, Chilmari upazila Awami League president and valiant freedom fighter Shawkat Ali Sarker, Bir Bikram, Juri upazila Awami League President Badrul Hossain,Rajbari district former AL president Advocate Rafiqus Salehin , noted television  and film actress Sharmila Ahmed and noted Journalist  and Editor of Dainik Desh Rupantar Amit Habib.
The jatiya sangsad expressed condolence on the fatalities who were killed in fire incident at Chawk Bazar , train accident at Uttara on Dhaka-Mymensingh road,  land slide in Srimangal, road accident at Gaziabad in Turkey, flood in Afghanistan and causalities in different places across the world.
Moreover, the house also expressed deep shock and prayed eternal peace to the almighty for those who had been lost their lives due to accident at different places in home and abroad.
Later, the obituary motion was unanimously adopted by the house, prayed for eternal peace of those deceased and observed one-minute silence  munajat as mark of respect to the departed souls.
Treasury bench lawmaker Hafez Ruhul Amin Madani conducted the munajat.
Earlier, a long discussion was held recalling the memory of veteran freedom fighter and Deputy Speaker Fazle Rabbi Mia.
The lawmakers including Amir Hossain Amu, Begum Matia Chowdhury, Whip of the ruling Awami League Abu Sayeed Al Mahmud Shawpan, Whip Mahbub Ara Gini, Advocate Qamrul Islam, Sheikh Fazlul Karim Selim, Shahjahan Khan, Jatiya Party Deputy Leader Golam Mohammad Quader, Jatiya Party  lawmakers Anisul Islam Mahmud , Mashiur Rahman Ranga and Kazi Feroz Rashid.
Prime Minister Sheikh Hasina also addressed at the obituary motion recalling the contribution of Fazle Rabbi Mia in his long political career.