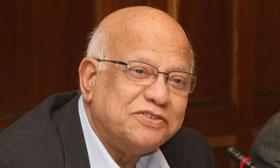 Kathmandu has asked Dhaka to join it as equity partner in a power generation plant in Nepal.
"We discussed flood control management and energy cooperation in my meeting with the Nepali finance minister," finance minister Abul Maal Abdul Muhith said at a press briefing on Tuesday.
He said Nepal has a huge capacity to generate power but it is not properly utilised due to investment shortage. "They asked us to join them as equity partner," he added.
UNIFORM TRANSIT REGIME
Muhith said the government is planning to allow Nepalese trucks to go up to Mongla to facilitate trade. "Now the trucks can enter 200 metres inside Bangladesh territory," he said.
Muhith said Bangladesh and Nepal have necessary infrastructure for transit but a 17-km slice of Indian territory between the two borders lies in dilapidated condition.
"India informed us (that) they have negotiations with Nepal and Bhutan to finalise routes, and New Delhi will take necessary action in line with our recommendations," he said.
About sharing the report of core committee on transit, Muhith said it is obligatory under WTO regime to share information with beneficiaries. "It is likely that we will share the recommendation part with Nepal," he said.
About transit fees, he said, "We are trying to reach a decision by March, as there is a compulsion to renew water protocol with India." But even if a decision is not reached by then, the minister said the protocol will be signed "as it is now".
"We will have another negotiation later," he said.
This will be a uniform transit fees applicable to all countries, he said.
The minister, however, said it is not possible to provide transit facility without improving infrastructure.
TARIFF CONCESSION
Muhith said Nepal asked for tariff concession for certain products that they want to export. "Verbally they told us about duty reduction in apple, pulse and mostly agriculture products," he said.
Bangladesh has offered some duty facilities to Bhutan and it can be replicated in the case of Nepal, the minister said.
Source : bdnews24