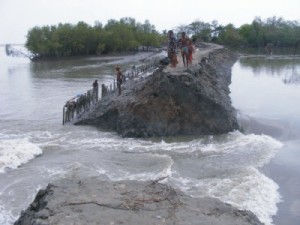 Bangladesh is likely to be among the countries that will be the worst affected by climate change. Climate change refers to the changes in climatic elements' behaviour due to natural variability and human activity. In the last few decades, extensive floods, cyclones, tidal surges, tsunamis, drought, riverbank erosion, etc., have attacked our country increasingly frequently. The UNDP has identified Bangladesh to be the most vulnerable country in the world to natural disasters. On average, 80 tropical cyclones are formed every year all over the globe. Bangladesh is a part of humid tropics, with the Himalayas in the north and the funnel shaped coast touching the Bay of Bengal in the south. This peculiar geography of Bangladesh causes not only the life giving monsoons but also catastrophic ravages of cyclones, nor'westers, tornadoes and floods. In the 1991 cyclone, deaths amounted to a figure of 1,40,000. On the other hand, in the 2007 Sidr, the total number of deaths was only 3500. But the intensity of the cyclone Sidr was more than in the 1991 cyclone. In Aila ( on May 25 this year) the total death was 179. This was because of intensive disaster management programme. However, Bangladesh is a deltaic country located in the lower part of the basins of the three greatest rivers in the worldthe Ganges, the Brahmaputra and the Meghna. The floodplain of these rivers and their numerous tributaries and distributaries cover about 80 percent of the country. As a result of the flat topography of the floodplain, every year one third of the country is annually flooded which causes a lot of losses. Also, the NW region of Bangladesh is more prone to drought than others. During the last 50 years, Bangladesh suffered about 20 times from drought conditions.
We have to learn to live with this change by coping with it and by mitigating it by disaster management. We have to strengthen the cyclone warning system and adopt protective and relief measures to minimize their onslaught. Coastal embankment has to be built high above the sea level to serve as cyclone shelters. Also we should navigate the rivers and ensure smooth flow of all national and international rivers.
Most of all, we have to be environment friendly.
Credit goes to ->Photo: Tomzid Mollick/ Driknews Md. Abdus Sabur (Hasan), MS student, Geography and Environmental Studies, University of Chittagong.