• Elcome integration capabilities complement Thuraya products and services
• Combining outstanding expertise with experience and strength in depth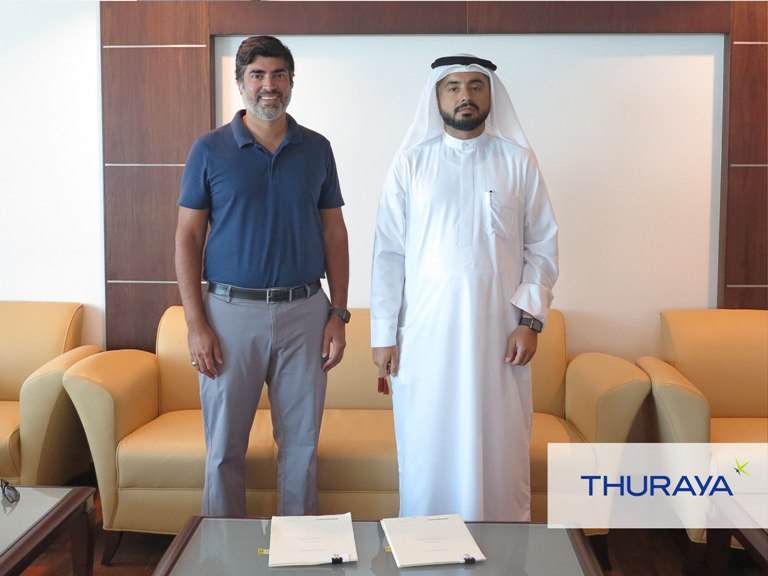 #thenewscompany :  Thuraya Telecommunications Company, a subsidiary of the Al Yah Satellite Communications Company (Yahsat), today announced it has signed a Service Partner agreement with Elcome, one of the world's largest marine technology system integrators. Elcome will provide Thuraya's products and services worldwide across key vertical markets.
Headquartered in Dubai and operating out of 23 offices across 11 countries, Elcome has developed a diversified portfolio of technologies and solutions since its founding in 1969. The company's first-class integration capabilities complement Thuraya's renowned satellites, robust global network, best-in-class products and 20+ years record of outstanding resilience, availability and innovation.
Ali Al Hashemi, Chief Executive Officer of Thuraya, said: "Thuraya is pleased to welcome Elcome as a Service Partner. This partnership will further enhance our commitment to key sectors, including maritime, government, energy and leisure. Nowadays, these sectors and their customers demand solutions that go beyond the standard connectivity. This partnership will meet those needs on all fronts, including products, network, integration and support."
This strategic agreement is a key milestone in Thuraya's strategy to drive growth in its maritime business. The partnership will further expand market potential by offering customized solutions for this market segment.
Jimmy Grewal, Executive Director of Elcome, said: "The demand for innovative and flexible data solutions for the maritime industry is growing exponentially. We are proud to partner with Thuraya to deliver such integrated services to our regional defence, government and commercial customers."
Elcome is the largest satellite communications and systems integration provider in the Middle East, supporting all major shipyards in the region. Its in-house team is fully competent and factory trained to deliver SOLAS compliant integrated communication solutions for vessel owners. Elcome provides 24/7 support for over 1,200 terminals under the connectivity services program for the world's leading container and LNG carriers. It also supports a wide range of vessel owners and managers with tailor-made cyber security solutions.
Shawkat Ahmed, Chief Commercial Officer of Thuraya, said: "This is an important step towards an extensive and exciting long term collaboration. Elcome covers a wide customer base who truly need comprehensive connectivity at all times beyond terrestrial reach. Our capabilities are complementary, and we will be able to give end users far greater flexibility than they have now. This agreement delivers reliable communication wherever and whenever it is needed."
About Thuraya Telecommunications Company
Thuraya, is the mobile satellite services subsidiary of Yahsat, a leading global satellite operator based in the United Arab Emirates (UAE), fully owned by Mubadala Investment Company. Established in 1997, Thuraya offers innovative communications solutions to a variety of sectors including maritime, energy, government, broadcast media, military, aerospace and humanitarian NGO.
Thuraya's superior network enables clear communications and uninterrupted coverage across two-thirds of the globe by MSS, global VSAT coverage and around the world through its unique GSM roaming capabilities. The company's diverse range of technologically advanced and dependable mobile satellite handsets and broadband devices provide ease of use, value, quality and efficiency. Through relevant partnerships, Thuraya stays ahead by delivering solutions and supporting applications that meet the rapidly transforming nature of market demands. Thuraya remains committed to keeping everyone within reach in any circumstance by making accessible the essential tools required for vital connectivity.
About Elcome International LLC
Founded in 1969, Elcome is based in Dubai, UAE and is one of the world's largest maritime companies with a diversified portfolio of technologies and solutions. Celebrating its 50th anniversary this year, Elcome is now operating out of 23 offices, across 11 countries and with over 500 employees. Elcome is the authorized sales and service representative for world's leading OEMs across defense, oil & gas, offshore, merchant shipping, and yachting industry segments. Elcome's factory trained engineers visit more than 800 ships every month from Suez to Singapore with an impressive first-time fix-rate of 96 percent. Elcome is a specialist turnkey solutions provider of navigation, communication, automation, and safety systems. Elcome's Electronics Service Hub in Dubai is a full-service center with lifecycle support and life extension services for obsolete electronics. Elcome is Middle East's largest supplier of nautical charts and publications, both print and digital, and runs two print-on-demand centers in Dubai and Colombo for ADMIRALTY Standard Nautical Charts. Elcome operates an FTA-approved training center and bridge simulator in Dubai for dynamic positioning and ECDIS systems. The company is certified to ISO 9001:2008, ISO 14001:2004 and OHSAS 18001:2007 by DNV. www.elcome.com