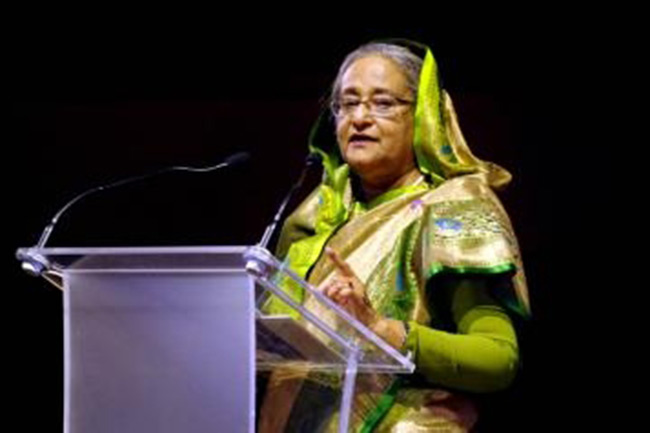 #thenewscompany : Mentioning that BNP's acting chairman Tarique Rahman is committing terrorist acts staying in London, Prime Minister Sheikh Hasina has said the fugitive convict will have to face justice for the crimes.
"We've already talked to the British government for Tarique's extradition. How he is staying in London after being convicted and we are making efforts to take him back home," she said while addressing a reception here yesterday afternoon.
The premier hoped that her government will be able to take back Tarique home. "We will take him back home Insha Allah and he will have to face justice for the crimes he has committed," she added.
UK Chapter Awami League accorded reception to the prime minister at Methodist Central Hall in London for Bangladesh's graduation to a developing country from a least developed one.
The prime minister said Tarique Rahman committed terrorist acts at home and like that he is now committing the same crimes staying in the British capital. Think that how a big terrorist he is?" she said.
Referring to the vandalism in Bangladesh High Commission in London by the BNP terrorists, Sheikh Hasina said the BNP terrorists at the directives of Tarique Rahman dishonoured the portrait of Bangabandhu. "I ask that from where they got so much courage to disrespect Bangabandhu?" she said.
In this connection, she criticised the role of the high commission. "I don't know who were (sitting) in the high commission on that day and my question is that why they couldn't do anything in this regard," she said.
Terming the BNP as a party of bankrupts, the Awami League president said how the BNP made a fugitive convict as its chairman. "They want to destroy the country by tarnishing its image," she said.
The prime minister said those who ransacked the Father of the Nation's portrait will have to be punished. "I will tell the expatriates Bangladeshis that you're not seeing those who dishonoured Bangabandhu and they will have to be given proper punishment," she said.
The prime minister said Tarique Zia has forgotten that her mother landed in jail for corruption. "They now want her release, but we cannot release her. For that they will have to do legal battle or seek mercy from the president and there is no other way," she said.
Sheikh Hasina said her government didn't arrest Khaleda Zia politically. "If we wanted to arrest her politically, we could do it in 2013, 2014 or 2015 when she burnt people to death," she said.
The prime minister described Zia, Khaleda Zia and Tarique as killers and said the country will have to be saved from these murderers.
Sheikh Hasina said the children of those convicted in war crimes amassed black money through corruption and they're tarnishing the country's image by putting false blame. "They'll have to be given befitting reply and country's image will have to retained," she said.
Eminent journalist Abdul Gaffar Chowdhury, Foreign Minister Abul Hassan Mahmood Ali, State Minister for Foreign Affairs Md Shahriar Alam, State Minister for Women and Children Meher Afroz Chumki and local leaders of Awami League and its associate bodies spoke on the occasion, while UK Chapter AL president Sultan Mahmud Sharif chaired it.
The prime minister said some quarters are talking about the human rights violation regarding the jail of Khaleda Zia. "She was convicted by the court for her corruption and what was our offence in this regard and human rights of whom?".
Sheikh Hasina said Bangladesh has given shelter to 11 lakh Rohingyas by showing humanity and is it the human rights violations?