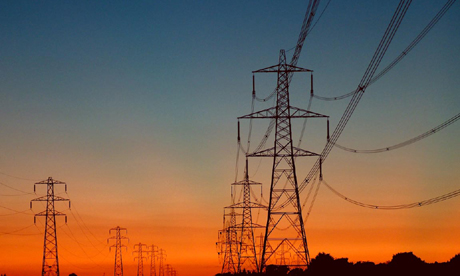 DHAKA: India today started transmission of electricity to Bangladesh to test a newly built line under an agreement to export 250 Megawatt of power to its energy-starved neighbour.
"The flow of power began on a test-run basis ahead of the formal launch of the transmission system on October 5," said a power division spokesman.
50 MW of power was transmitted and the quantity will vary from 50 and 175 megawatts till October 5, when Bangladeshi Prime Minister Sheikh Hasina is expected to launch a power-grid substation at western Bheramara, the entry point of the cross-border transmission line, the spokesman said.
Indian premier Manmohan Singh is also expected to join the ceremony through video conference from his office in New Delhi, he added.
The state-run Bangladesh Power Development Board (BPDB) and Indian NTPCBSE -1.40 % Vidyut Vyapar Nigam Ltd ( NVVN), a subsidiary of India's National Thermal Power Corporation (NTPC), inked a deal on February 28 last year to import 250 MW of electricity, following up on a memorandum of understanding (MoU) signed during Sheikh Hasina's 2010 visit to New Delhi.
The transmission line went into operation ahead of the foundation stone laying ceremony of Bangladesh's biggest ever power plant, the the USD 1.5 billion 1320 MW plant at Rampal, to be built by BPDB and NTPC on a 50:50 equity basis.
The Acting Managing Director of Power Grid Company of Bangladesh ( PGCB), Chowdhury Alamgir Hossain, earlier said that during the test-run period, electricity would be flowed with intervals to ensure that all systems were working properly.
"The system would be upgraded to carry up to 500 MW of electricity from November, in line with the agreement between the two countries," he added.
Officials said the BPDB will import 250 MW of electricity from Indian government's unallocated quota, while another 250 MW was is set to be supplied by an Indian private firm called PTC India Limited.
The average power tariff would be Bangladeshi Taka 6 under the 25-year agreement while the BPDB will have to pay an additional Taka 0.80 per unit as wheeling charge to the power distribution firm.
Bangladesh's overall electricity generation is now hovering around 6,000 MW, but a demand of over 7,500 MW has caused severe shortage in recent weeks.
Officials said the redirection of huge quantum of natural gas, Bangladesh's main source of electricity, to fertiliser factories and suspension of a major gas field for routine maintenance has caused the shortage.
They said that the line connecting India will also help establish a SAARC (South Asian Association for Regional Cooperation) electricity grid, with discussion for an undersea power link with Sri Lanka also underway.
Bangladesh is set to consume 24,000 MW of electricity by 2021 and thus also plans to import power from neighbouring Nepal, Bhutan and Myanmar, officials said.
eNewsDesk/Energy/