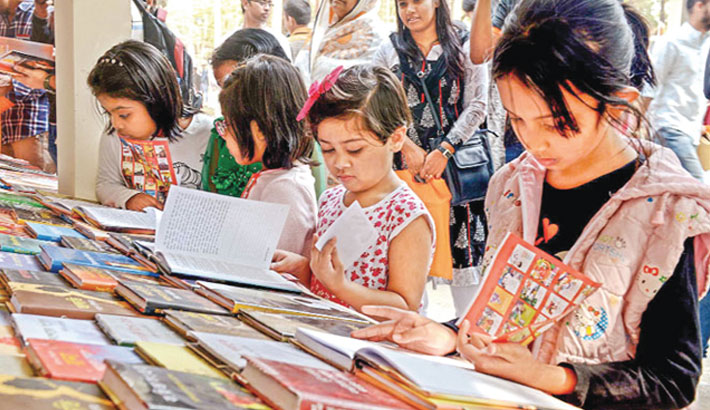 #thenewscompany – A large number of weekend visitors of all ages particularly children were seen today on the 10th day of the Amar Ekushey Granthamela-2018, which has turned into a vibrant and festive gathering of booklovers, authors, publishers and researchers.
The stall attendants were seen busy dealing with the visitors and smiles flashed on the face of the publishers as holiday crowd flocked to different stalls and pavilions.
According to the website of Bangla Academy, a total of 1134 books of different genres of literature and branches of knowledge were published in the book fair till today.
With the first two hours from 11am to 1pm dedicated to kids as children's hour, children's presence was impressive in the morning, while the number of visitors of all ages increased as the children's hours ended, fair sources said.
The organizers of the fair arranged different programmes including essay writings, painting, discussion and cultural function for children on the occasion of children's hour.
Children mainly thronged to different stalls and many of them were seen buying books on fairy tales, ghosts, puzzles, alphabets, cartoons and comics. As the first two hours from 11am to 1pm dedicated to kids as children's hour on Friday and Saturday, publishers expect increased sale of children's books on these two days compared to other working days. They said generally, children like those books, which have colorful and impressive illustration.
They also laid emphasis on child-friendly content to encourage them in reading more books as now-a-days they are largely habituated to using technology.
The month-long book fair began on February 1 on the premises of Bangla Academy and its adjoining Suhrawardy Udyan in the city.
Writers, booklovers and publishers observed that the Amar Ekushey Book Fair has now become a festival of all ages of people. This is a great success of the book fair, they added.
Recalling his memories about the book fair during his early life, a visitor said, "This book fair was held in a limited scale….. Gradually the fair is expanding its scale because of huge response of writers, book lovers and publishing houses."
The people of all ages eagerly keep waiting for the fair throughout the year to buy new books of their favorite writers, share and exchange on literary works, he added.
Necessary security arrangements have already been made with the installation of 250 closed circuit camera televisions (CCTVs) in and around the Bangla Academy complex. The law enforcers have been deployed in large numbers to ensure foolproof security.
The book fair will remain open for all from 3pm to 9pm on working days and 11am to 9pm on government holidays with a one-hour break for lunch and offering prayers. It will continue till February 28.
Two main entry gates have been erected at Teacher-Students' Centre (TSC) of Dhaka University and Doyel Chattar.
Poets and writers from 15 countries will join the International Literature Conference, 2018 to be held on February 22-23.
A total of 800 stalls including 670 book stalls, 150 stalls of little magazines and some stalls of different socio-cultural organizations have been installed in the book fair covering an area of 1.50 lakh square feet. Bangla Academy will publish 146 new books this year.
The authorities for the first time have included the Swadhinata Stambha (Independence Monument) at the Suhrawardy Udyan as part of the book fair.
A mancha (stage) for holding publication ceremonies and programme on unveiling covers of the books has been installed at the Suhrawardy Udyan while discussions and seminars will be held every day on the main mancha erected on the Bangla Academy premises.