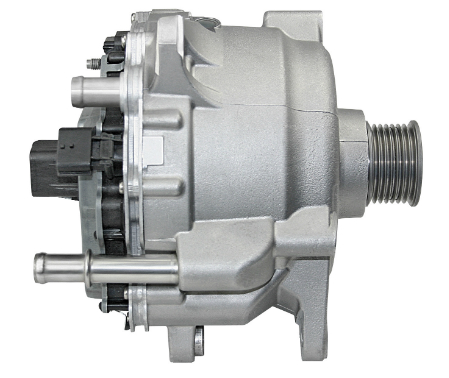 #thenewscompany : Renault and Continental have announced the electrifying one diesel variant of both the new Renault Scénic and Grand Scénic models. The system, offered as 'Hybrid Assist', is a cost-efficient solution to significantly reduce fuel consumption and exhaust emissions by replacing the conventional starter generator, with an electric motor with a continuous output of six kilowatts (10kW temporary), which in turn drives the crankshaft via a belt.
Since 2013, Continental engineers have been working together with Renault on a 48v drive as a low cost alternative to conventional 300 and 400v systems usually used in hybrid vehicles. With the mild-hybrid system, Renault is aiming for combined fuel consumption of 3.5-liters of diesel per 100km. The French OEM is also aiming to reduce the Scénic´s CO2 emissions to 92g/km. The integration of the 48v system helps achieve this, as the electric motor, operated as a generator, also converts a large proportion of the braking energy into electricity, which is temporarily stored in a small battery. This electricity can then be specifically used to relieve the internal combustion engine. This is also the reason why nitrogen oxide emissions and exhaust particles, especially in urban traffic, are reduced when a 48v drive is combined with a diesel engine.
"We are proud that we were able to secure Renault as the first customer for our innovative 48v drive," said José Avila, Continental executive board member responsible for the Powertrain Division. "Other production launches for both diesel and gasoline vehicles are in the pipeline for Europe and other markets including China and North America," explaied Rudolf Stark, head of the Hybrid Electric Vehicle Business Unit. "In 2025, approximately one in five new vehicles across the world will be equipped with a 48v drive."
Continental states that its 48-volt solution is 'relatively easy to combine with preexisting internal combustion engines', as it can be packaged in the same space as a conventional starter generator. This is due to the high power to size ratio of the electric motor, which does not contain rare earth materials. This is achieved by water cooling of the stator and the high efficiency of the induction motor. To save space, the inverter, which is needed to convert direct current stored in the battery into alternating current required for operation, is integrated in the housing lid of the motor.
In addition to designing the 48v drive for the crankshaft of the internal combustion engine in Renault vehicles, Continental is also working on other solutions. The electric motor can also be placed between the engine and transmission – allowing, for example, purely electric driving in inner city areas.