Customers discover the launch centre in El Arenosillo (Andalusia, Spain) and new application
opportunities related to operational and technical capabilities of MIURA 5.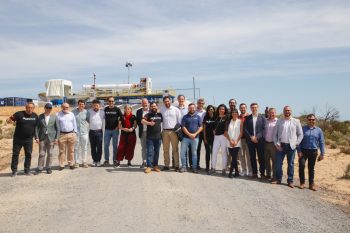 #thenewscompany :  PLD Space, the Spanish company, European leader in small satellite
space launches, is making great strides in the development of its MIURA 1 Test Flight 1 campaign. PLD
Space just held its first Customer Day at its launch centre in El Arenosillo that brought together key players in satellite manufacturing and operations, both nationally and internationally. The PLD Space team shared its current roadmap and perspectives to its very first customers during this dedicated visit. These customers had the opportunity of visiting the new control centre and launch pad from where PLD Space will perform the next test flight of the MIURA 1 demonstrator over the coming weeks.
Some twenty customers, already officially committed to the MIURA 5 launcher, were able to discover on
site how the PLD Space operational team is working to orientate with perfection its launch services on the low-Earth orbit market, to enhance the efficiency of its value chain and to satisfy an ever-growing
European demand on the micro-launchers segment. They also learned about new application development opportunities related to the operational and technical capabilities of MIURA 5.
MIURA 5 development in steady progress for market launch
On this occasion, and as announced by the company, PLD SpaceTM has confirmed that it is making steady progress in the development of the MIURA 5 programme. With the market launch scheduled in 2025 of a premium service combining reliability and flexibility, MIURA 5 will cater for operators of satellites of less than 500 Kg, a market segment estimated at about 85% of the global space business.
"The company is moving forward in leaps and bounds in the commercialization process with a market
potential of around €300 million, a figure that could potentially double by the end of this year. PLD
Space's offering fully meets the specifications required by satellite manufacturers and operators and
promises excellent commercial prospects for the company" declared Raúl Verdú, co-founder of PLD
Space and commercial development director."
"We continue to work to integrate 100% of our value chain in over 100,000 m2 of design, manufacturing, test and launch facilities, as well as promoting our brand in the European and international arena, both commercially and around talent acquisition. We are very pleased and very grateful for the growing support we are receiving from customers, partners, institutions and the space community in general to continue building a globally competitive company." said Ezequiel Sanchez, Executive President of PLD Space.
About PLD Space
PLD Space is a pioneering Spanish company in the aerospace sector and a reference within Europe in the
development of recuperable rockets, with a recognized prestige in the sector and a solid project that has
become a reality through its launch vehicles: the MIURA 1 suborbital and MIURA 5 orbital rockets, which will place Spain among the few countries with the capacity to successfully send small satellites to space and position Europe in the forefront in the international arena.
With more than a decade of history, PLD Space plans to launch its MIURA 1 prototype in Q2 2023 and tackle its first real space transport mission with MIURA 5 in 2024. The firm, based in Elche (Alicante) and with technical facilities in Teruel, Huelva and French Guiana, has already achieved more than €60 million of investment to drive forward its project in the space sector.