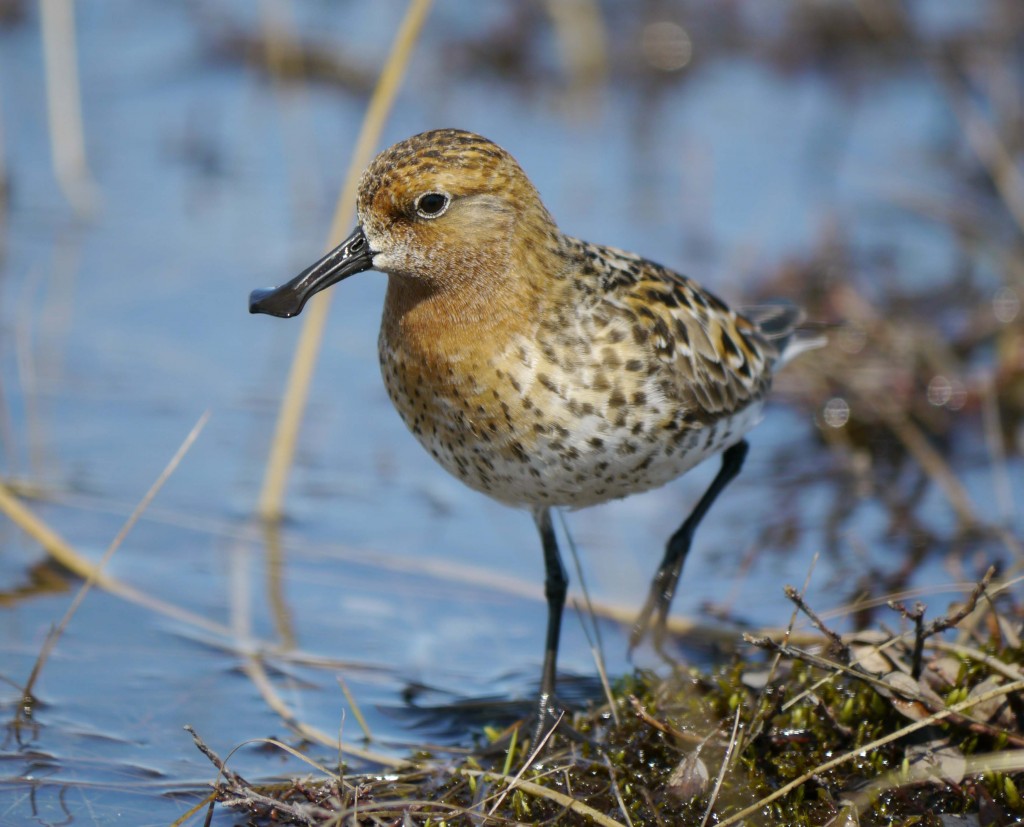 Nijhum Dweep is the national coastal biodiversity hotspot especially for the migratory birds in Bangladesh. Nijhum Dweep in the Central Coast at Bay of Bengal is the cross-road of two global migratory flyways: the East-Asia-Australasia and the Central Asia. This has been recognized by Birdlife International and Wetlands International.
During Eighties, we a group of wildlife biologist had lead several expeditions and identified the ecological significance of Central coast in the Bay. We organized sky survey all along the coast by using Sesna aircraft to identify the important spot for migratory birds and their resting, feeding and roosting sites. Dr. Derek Scot from International Waterfowl and Wetlands Research Bureau (IWRB) UK, Mr. Mark Barter, Australasia Wader Studies Group, Australia and Mr. Abdul Wahab Akonda, Forest Department, Dr. SMA Rashid, NACOM, Dr. John Howes, Mr. David Bakewell and Ms. Susan Wang of AWB has joined us in the team. The study was carried under the project titled III Forestry of Forest Department and supported by the World Bank. After the Arial survey, we did the ground truthing covering the coastline from Sonadia to Kuakata. Later, we have conducted another detail study for the Forestry Resource Management Project (FRMP) of Forest Department/ BCAS, supported by Asian Development Bank. The major recommendations of both the studies were to declare Nijhum dweep as RAMSAR site, Shorebird Reserve and establish Coastal Biodiversity Research Center at Nijhum Dweep. The study also identified other islands in the central coast which acts as the important stepping stones and staging grounds of nearly 50 species of waterbirds. The distribution, abundance of waterbirds and their ecological significance were also assessed.
The sites which have global significance are: Urir Char- Hatiya Coast; Monpura- Kukrimukri Coast; Char Montaj- Kuakata Coast and Sundarban's Coast. All these sites were proposed as seasonal shorebird reserves.
As the National Coordinator of Asian Waterfowl Census (AWC) I had reported the occurrence of globally threatened waterbirds such as Spoon-billed Sandpiper, Asian Dowitcher, Nordman's Greenshank, Spotted Redshank, Goliath Heron and Indian Skimmers in good numbers in the Nijhum Dweep and had raised the international biodiversity significance of Nijhum Dweep at global forum by presenting our findings in several global biodiversity conference held at Malaysia, Australia, UK, Germany, France and USA during early eighties.
Birds migrate in this Bay fall under three different categories viz.; early migrants, passage migrants and winter migrants. Early migrants used the come at our coast during October- November those who either stay here for a while and migrates further south or some of them stay throughout winter. The passage migrants visit our coast in large numbers and stay few days for re-fueling and moves to their winter destination. And finally the winter migrants come to our coast and use the coastal mudflats as their feeding ground and roamed entire winter season.
Nijhum Dweep down to Hatiya island in the bay is a clusters of islets having enormous coastal biomass productivity. At its center the raised land is the old growth of planted mangroves forest. The man-made mangroves re-colonized various wildlife including, Jackal, Otter, Mongoose, Rats, Fishing cats, Bats, Monitor lizards, snakes and birds. Forest department has introduced the Spotted Deer, Rhesus Macaque and Python taking stalk from the Sundarbans mangrove forest.
The channels around Nijhum Dweep are very much rich in macro-benthos and other invertebrates. Among them crustaceans, nematodes and helminthes are dominant. Intertidal creeks are full of different types of algae which are used by the ducks in large numbers. The islands and its surroundings are comprised various types of habitats. Important among them are: network of intertidal creeks inside mangroves, massive mudflats, grassland, reed land, sand flats, sand beaches, sand dunes and dipper channels. Nijhum Dweep is rich in fish fauna specially Crustaceans and other estuarine fish populations. We have recorded the globally threatened turtles the Batagur and Green turtles from the beach of Nijhum Dweep. The channels around Nijhum dweep are good abode of Ganges Dolphin, Indo-Pacific Humpback, Finless Porpoise and Irrawaddy Dolphins. Several kilometers of intertidal sand flats at the south of Nijhum Dweep is the most important staging ground of 10000 to 20000 migratory birds.
Based on our Asian Waterfowl Census, we have discovered various species of waterbirds, their flight path and habitat preference in Bangladesh. Nijhum dweep and its adjacent areas support a large numbers of migratory waterbirds which ranges from 30,000 to 50000 birds belongs to 95 species. Average arrivals and main species compositions are: Gulls and Terns 10000-20000; Ducks and Geese 7000-10000; Egrets and Herons 5000-7000; Indian Skimmer 2000-3000; Black-headed Ibis 500-1000; Black-tailed Godwit 3000-5000; Pied Avocet 100-200; Greater Sand plover 1000-2000; Lesser Sand plover 3000-5000; Kentish Plover; 500-1000; Little Stint 1000-2000; Curlew Sandpiper 500-1000; Asian Dowitcher 30-50; Nordman's Greenshank 10-20; Spotted Red Shank; 5-15; Spoon-billed Sandpiper 20-300; Goliath Heron 1-4; Redshank 2000-3000 and Greenshank 1000-1500.
Char Bahauddin close to nijhum Dweep is the safe haven of breeding birds like Indian River tern, Common tern and Great Thick Knee.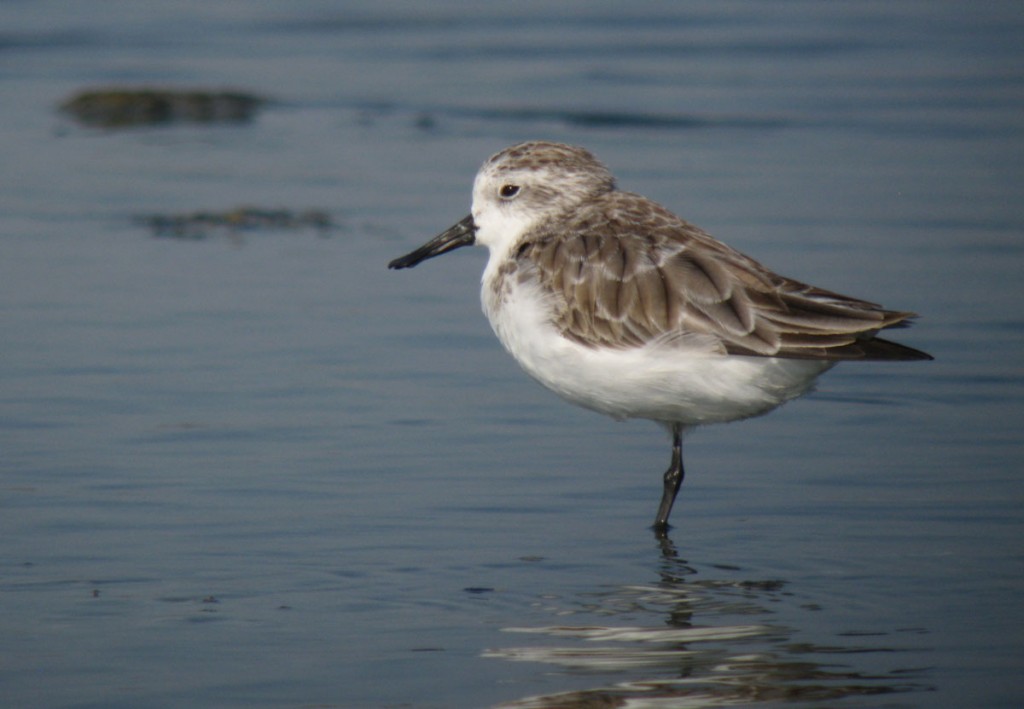 Spoonbill Sandpiper : an attractive little bird with a distinctive spoon-shaped bill, this sandpiper has winter plumage as pretty as its breeding colors. Non-breeding adults have pale brown-grey upperparts, with a white trim around each feather. The underparts are white and it lacks the colors seen in breeding adults, which have a russet red head, neck and breast streaked with brown, and dark upperparts with pale brown and red edging to the feathers. It calls quietly with a 'preeep' and a 'wheeet' .
This charismatic species is listed as Critically Endangered (RDB-IUCN/BLI) because it has an extremely small population which is undergoing an extremely rapid population reduction. This is because of a number of factors, including habitat loss in its breeding, passage and wintering grounds, which is compounded by disturbance, hunting and the effects of climate change. Fledging success and juvenile recruitment are very low, leading to fears that the population is ageing rapidly; action is now urgently required to prevent the extinction of this species. surveys on the breeding grounds of Spoon-billed Sandpiper Eurynorhynchus pygmeus show that the species has declined extremely rapidly from an estimated 2,000–2,800 pairs in the 1970s to perhaps fewer than 100 pairs in 2007.
Threats to migratory waterbirds and their habitats include:
• Loss of habitat through reclamation of wetlands
• Loss of habitat due to intensifying agriculture
• Degradation of habitat through pollution
• Reduction or diversion of water supply
• Increase in disturbance by humans
• Invasive plants and predators
• Climate change
Change in Land-use planning and Land grabbing are two major threats to the biota of Nijhum Dweep. Mangrove plantation in and around Nijhum Dweep has been reducing the mudflats. Overfishing in the channel and buffalo grazing in the mudflats are also posing threats to the habitat of migratory birds in the region.
Waterbirds are a diverse group of wetland dependent bird species. They are extremely important both from a conservation and recreational point of view. Most of these species have adapted to the drastically changing conditions of wetlands through their migratory behavior.
Many waterbirds complete annual migrations of several thousands of kilometers between their breeding and non-breeding areas, passing many country borders and even between continents. These migration routes are called flyways. Waterbird conservation and sustainable management requires coordinated actions throughout the length of a flyway.
A Flyway is the entire range of a migratory bird species (or groups of related species or distinct populations of a single species) through which it moves on an annual basis from the breeding grounds to non-breeding areas, including intermediate resting and feeding places as well as the area within which the birds migrate."

The East Asia – Australasian Flyway (the Flyway) is one of nine major migratory waterbird flyways around the globe. It extends from within the Arctic Circle in Russia and Alaska, southwards through East and South-east Asia, to Australia and New Zealand in the south, encompassing 22 countries. Migratory waterbirds share this flyway with 45% of the world's human population. The Central Asian Flyways (CAF)covers large continental area of Eurasia between the Arctic Ocean and its associated islands.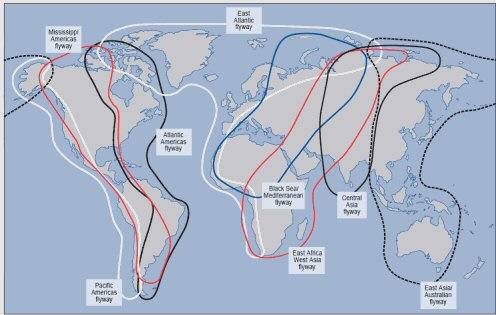 These flyways CAF comprises several important migration routes of water birds, most of which extend from the northernmost breeding grounds in Siberia to the southernmost non-breeding wintering grounds in west Asia, South Asia, the Maldives and British Indian Ocean. The Flyway is home to over 50 million migratory waterbirds – including shorebirds, Anatidae (ducks, geese and swans) and cranes – from over 250 different populations, including 28 globally threatened species. There are currently 700 sites recognized as internationally important to migratory waterbirds along the flyway, many of which are located adjacent to human settlement and vulnerable to rapid social and economic development pressures. Without international cooperation to address these threats, many waterbird species will face extinction in the near future.
Bangladesh need to join the Convention on Migratory Species (Bonn Convention) and implement the Global Migratory Birds Conservation Strategy and Action programmes to save the flying wonders of the world. Nijhum Dweep could be a bright star of Bay of Bengal Biodiversity if proper conservation measures taken through establishing a shorebird reserve.
 Authior : Dr.Anisuzzaman Khan,Biodiversity Scientist, e-News® Xclusive