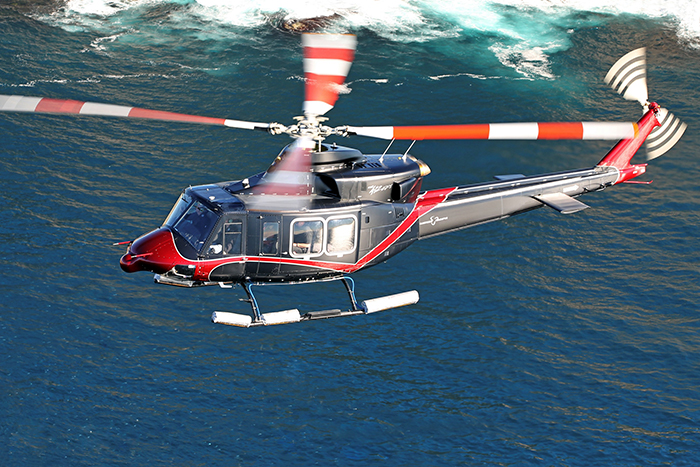 #thenewscompany – Bell Helicopter, a Textron Inc. (NYSE: TXT) company, announces today the signature of a purchase agreement with the Philippine Department of National Defense (DND) for 16 Bell 412EPI helicopters that will be operated by the Philippine Air Force (PAF).
The 16 Bell 412EPI helicopters, fully configured and equipped with advanced features, are being acquired as part of the Armed Forces of the Philippines (AFP) modernization plans, and were purchased by the DND through a government-to-government contract with the Canadian Commercial Corporation (CCC).
"We are honored that the Bell 412 will continue to serve the Philippines through the Philippine Air Force for many more years to come. Being a part of the armed forces of the Philippines is a privilege and responsibility that we at Bell Helicopter take very seriously," said Sameer A. Rehman, managing director of Bell Helicopter Asia Pacific. "Bell's helicopters have been a key component for the Philippine Air Force in the past and we look forward to bringing these aircraft into service quickly to serve the citizens of the Philippines."
The helicopters will be used for a variety of missions such as disaster relief, search and rescue, passenger transport and utility transport.
The Bell H-13 Sioux, a variant of the iconic Bell 47, was the first helicopter to enter into service with the Philippine Air Force in 1955. The Philippine Air Force has operated derivations of the Bell UH-1H since the late 1960s, and since 1994 when they received their first two Bell 412s. More recently, Bell Helicopter delivered eight 412EP aircraft to the Philippines in 2015.
The Bell 412 platform continues to garner interest from international customers, including the Canadian Coast Guard, which recently took delivery of all seven Bell 412EPIs. In Asia Pacific, the Aichi Prefecture in Japan signed a purchase agreement in 2016 for a Bell 412EPI to be used specifically for firefighting missions and disaster relief. In 2015, the Japan Ground Self-Defense Forces ordered 150 units of the new UH-X aircraft, based on the Bell 412EPI platform, which will be used for island defense and disaster relief efforts.
The Bell 412EPI improves the Bell 412 platform with the Bell BasiX Pro fully integrated glass flight deck, providing critical flight information at-a-glance for greater situational awareness and safety. The Bell BasiX Pro system is specifically designed to meet the requirements of twin-engine helicopters and is optimized for IFR, Category A and JAR OPS3 compliant operations. The avionics suite also includes high resolution digital maps, electronic charts and approach plates, and ADS-B transponder. The Bell 412EPI features the BLR Strake and FastFin system, which modifies the tailboom to optimize airflow and improve handling, safety and lift.