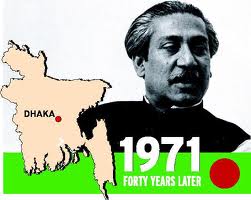 FARIDPUR, Aug 13 – The 38th anniversary of martyrdom of Father of the Nation Bangabandhu Sheikh Mujibur Rahman and National Mourning Day will be observed here on Thursday in a befitting manner.
In connection with the observance of August 15, 1975 tragic incident, when the Father of the Nation along with his family members were brutally murdered, an elaborate programme has been chalked out here.
The programme of the day will begin with hoisting of national flag at the half-mast on all private and public buildings. Floral wreaths will be placed on a big size portrait of Bangabandhu kept at Ambika Maidan.
A mourning procession will be brought out in the town mourners wearing black badges. The mourning rally will be followed by discussion meeting on the life and works of Bangabandhu to be held at Ambica Memorial hall.
Special prayers seeking divine blessings of Almighty Allah for the salvation of the departed souls will be offered at all mosques, temples and churches. Information department will project documentary films on the life and works of Bangabandhu titled 'Chiranjib Bangabandhu' and 'Swadhinata Amar Swadhinata' at different public places of the town.
A Milad and Doa Mahfil will be held on DC's office premises after Zohr prayer while a cultural function containing patriotic songs, recitation will be held at local Kabi Jasimuddin hall in the evening.
In the evening another broad based discussion meeting will be held at local Kabi Jasimuddin hall on the life and works of Bangabandhu. The discussion meeting will be attended by Expatriate Welfare and Overseas Employment Minister Engineer Khondoker Mosharraf Hossain as the chief guest.
Painting, hamd, naat and essay competitions on Bangabandhu among the children organized by Shishu Academy will be held on August 14.
A number of sub-committees have been formed to make the two- day programme successful. Similar programmes will be held in all upazillas of the district.
Author : @rrajowan / Source – BSS