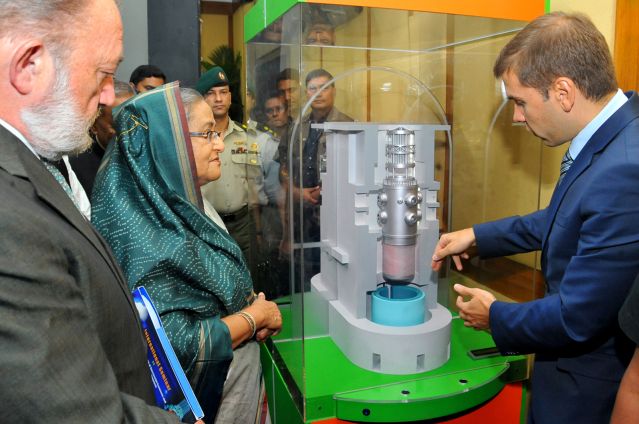 A two-day international conference titled "Nuclear power :  a chance of successful economic, social and political development" begins at Ruposhi Bangla hotel in the city. The conference is jointly organised by the Ministry of Science and Technology and Russian state energy corporation Rosatom.
Prime Minister Sheikh Hasina formally inaugurated the conference on May 29 at Ruposhi Bangla Hotel, Dhaka. Russian Ambassador to Bangladesh A. Nikolaev also spoke on the occasion among others. Speaking on the occasion, the Prime Minister said, "For embarking on a nuclear power program, our Government has given top priority to develop an appropriate nuclear infrastructure based on the IAEA Safety Standards and other relevant guidance as well as international good practices. We have promulgated Bangladesh Atomic Energy Regulatory Act, 2012 to strengthen national nuclear regulatory infrastructure to ensure safe and secured applications of nuclear techniques. An independent nuclear regulatory authority called Bangladesh Atomic Energy Regulatory Authority has been formed. The organization has been working with the close cooperation of ROSATOM and IAEA".
Sheikh Hasina said, "We will never compromise on the safety issues. During our bilateral consultation, I requested the Honorable President of Russian Federation Mr. Vladimir Putin for providing us the safest and the latest reactors and he assured me in this regard".
"ROSATOM is establishing a Nuclear Industry Information Centre in Dhaka, which will create an opportunity for our people to be acquainted with the different aspects of Nuclear Power Plant and I hoped, ROSATOM will be able to start the activities of the centre soon", she added. Emphasizing the importance of developing local competency in all areas including nuclear reactor management she said, "I urge the local nuclear engineers and related manpower to improve their management efficiency and update the knowledge. You will have to take the total responsibility of the Rooppur nuclear power plant one day. So, please develop your capacity to take the responsibility".
The inaugural session of the conference was dedicated to the topic "Role of nuclear power in the socio-economic development of the country". AAMS Arefin Siddique, Vice Chancellor of Dhaka University, Yuri Sokolov, Vice-President of Rusatom Overseas Engr. M. Ali Zulquarnain, Member Planning Bangladesh Atomic Energy Commission, Prof. A.S.M Maksud Kamal, Manuel Casanova, Tecnicas Reunidas, Emmanuel Gout, Head of Stratinvest from France and others spoke on various aspects of the topic. Speakers specially highlighted the context, necessity of building nuclear power plant in Bangladesh and specially the safety aspects of such project.
Topic of the second session was "Environmental protection and safety in atomic energy". Sergei Novikov, Director of Communications, Rosatom and Anatoliy Nazarov Academician of RAMS were in the speaker panel. Govt. officials, scientists, academicians, energy experts, policy makers, civil society and media representatives and others took part in the sessions of the conference.
On the second day a session will be held on "current requirements to NPP safety" and will be moderated by Yuri Sokolov, Vice-President of Rusatom Overseas. Rosatom speakers will make deliberations on several sub-topics. Besides Sergei Novikov, Director Communications of Rosatom will deliver a lecture on "Public acceptance : the necessary condition for nuclear power development" on the same day at 2:30pm at a public gathering at Dhaka University.
The conference is being held as a part of the intergovernmental agreement between Bangladesh and Russian Federation to build a nuclear power plant at Rooppur of Ishwardi, Pabna. The power plant will consist of two units, each with a power generation capacity of 1000 MW.
About ROSATOM : Rosatom is the State Atomic Energy Corporation of Russian Federation, which  incorporates more than 250 enterprises and scientific institutions. ROSATOM produces 16 % of electricity generated in Russia; 8 % of uranium mined across the world; provides 40 % of uranium enrichment services on the global market; supplies 17 % of the fresh nuclear fuel for nuclear power plants, and constructs 16 % of the nuclear power plants built in the world.
Rusatom Overseas, a subsidiary of ROSATOM, was founded in 2011 with the aim of promoting Russian nuclear technology on the global market. It has offices in Ukraine, Singapore, South Africa, Czech Republic, Slovakia, and Hungary.
Photo Caption: Yuri Sokolov, Vice-President of Rusatom Overseas making presentation at an international seminar on nuclear power, being held at Ruposhi Bangla Hotel in the city.
e-News I Energy Desk @rrajowan