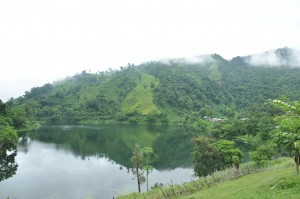 Bogakain Lake is a pristine natural geological heritage of Chittagong Hill Tracts situated 800 feet up above hills at Ruma  of Bandarban district in Bangladesh. The Mystery and myths makes this upland wetland an exclusive destination for tourists. This lake looks like an egret from where the name "Boga" derived and is surrounded by evergreen forest hills. Aquatic flora and fauna of this lake is different from other wetlands.  The lake is an important natural gene bank of rare fresh water fishes. Clouds are touchable at the lake during monsoon. The forest dwelling Bohm, Khumi and Murong communities revered this place as a site having spiritual and religious values. The lake is connected with underground hot spring and caves. The cave near to the lake is one of the rare roosts of threatened cave-dwelling Leaf-nosed bats.  The insect life around lake is very colorful and vibrant.  Bogakain lake is situated at the doorsteps of the Bangladesh's highest peak Keokradong.
During a nature watch, I have recorded several rare wildlife from this place viz. Bush Cricket, Goat Antelope, Cave dwelling leaf-nosed bats and  Mahseer .
Ongoing tourism is not nature friendly rather a  detrimental  one causing harm to the nature. It is noticed that some section of the top bank of the lake on the hills are cleared, leveled and constructed shops for the tourists. This is not only inviting people at the core zone of the lake but also damaging natural features and beauties of the hills. Numbers of Local Rest house is also increasing like mushroom without plan.  There exists no waste management system there. People are throwing all debris here and there.  The lake is seen getting contaminated with plastics and other non-biodegradable wastes. Bathing and washing clothes in the lake with carcinogenic detergents/soaps/shampoos are harming the aquatic life of the lake. Fishing in the lake is increased manifold with fine-filament nets.
High hill natural forests are clear-felled for timber collection and Jhum cultivation. Some Secondary growth forest and few pockets of natural groves are the home of the rare wildlife like forest birds, lizards, snakes, primates and deer's. Once the area was roamed by Tigers, Leopards, Beer, Sambar deer and elephants but at present some minor mammals like primates, jackals, hares, civets, jungle cats, bats and squirrels are seen.
This lake should be protected as natural sacred place and as natural hill monument.  A detail management plan on nature tourism and its implementation is of utmost importance. If the present way of tourism is persist, the lake will very soon lost its natural beauty, biodiversity and natural heritage.
Author : Dr. Anisuzzaman Khan/Nature Scientist/e-News Xclusive