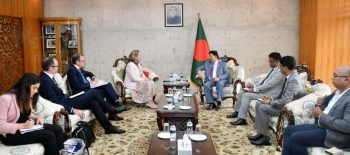 #thenewscompany : Visiting the UK's minister of state (Indo-Pacific) Anne-Marie Trevelyan today welcomed Prime Minister Sheikh Hasina's public commitment to ensure the next general election in a fair and credible manner.
"I welcome the Honorable Prime Minister's public commitment to fair and credible elections," she said while addressing a discussion at the Foreign Service academy in the capital.
Trevelyan was speaking as the keynote speaker at a discussion titled "Bangladesh-UK Partnership in the context of Indo-Pacific", chaired by state minister for foreign affairs Md Shahriar Alam.
The UK state minister said the international community could help Bangladesh by offering election observation to increase the confidence of all quarters in the outcome of the election.
"Credible elections will internally key foundation in demonstrating a commitment to the country's founding constitutional values for parliamentary democracy and human rights," she said.
Earlier, the visiting British minister paid a courtesy call on Foreign minister Dr AK Abdul Momen at the foreign ministry.
"I told her (Trevelyan) that we want a credible, free and acceptable election… and we have built institutions to carrying out such polls," the foreign minister told reporters after the meeting.
Momen said that he informed the British minister that the government has formed an independent election commission that is totally independent and mandated to function freely to conduct any election.
He said that during the meeting, they mainly talked about various aspects of the current situation of the Rohingya issue while the UK state minister reiterated the British government's commitment to resolving the crisis.
Replying to a question, the Foreign Minister said that recently the Myanmar government facilitated a visit of ambassadors of several countries including a Bangladesh envoy, stationed in Yangon, in Rakhine state to show the measures the neighbouring country has taken for repatriating Rohingyas.
"Let's hope for good news (Rohingya repatriation)," Momen said. Trevelyan arrived in Dhaka on Friday to discuss security, democracy, human rights, trade and the Rohingya crisis.
"As Bangladesh continues its development trajectory, the visit aims to celebrate the success and solidify the close links between the two countries for the years ahead, including through Bangladesh's crucial election year," said the British High Commission regarding the visit.