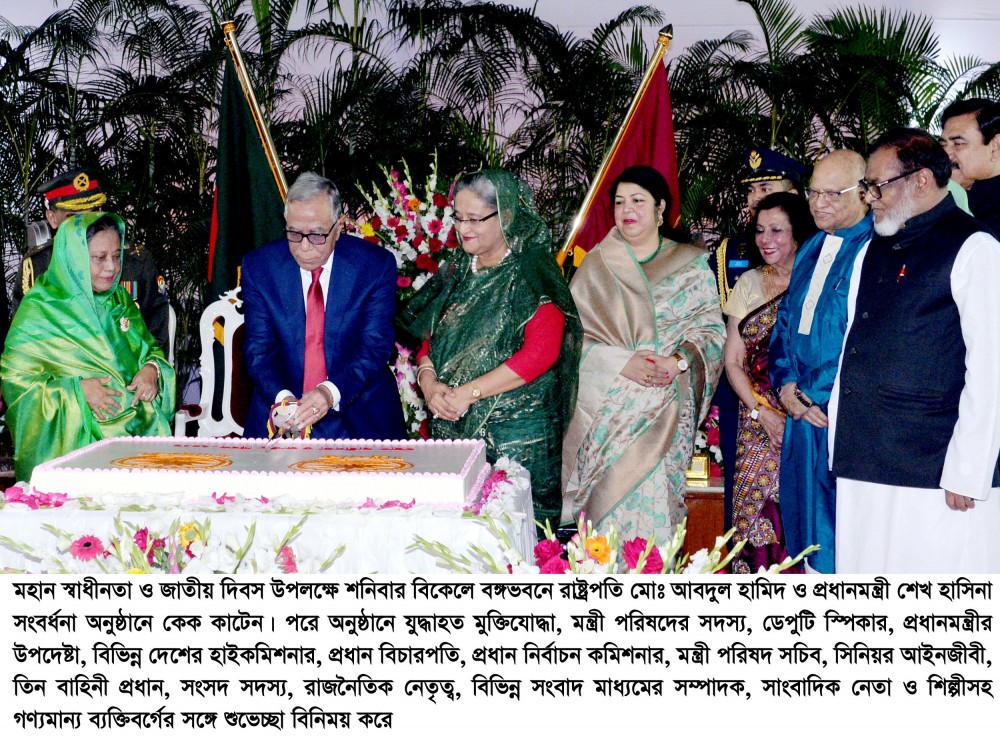 #thenewscompany – President Abdul Hamid and his wife Rashida Khanom today hosted a reception at Bangabhaban marking the country's 46th Independence and National Day. Prime Minister Sheikh Hasina joined the reception on the lawn of the President's House.
Speaker Shirin Sharmin Chaudhury, Chief Justice Surendra Kumar Sinha and former president HM Ershad attended the reception. Valiant freedom fighters and family members of Birshreshtha gallantry award recipients attended the Independence and National Day reception.
Cabinet members, Deputy Speaker, advisers to the Prime Minister, ambassadors and high commissioners of different countries, Chief Election Commissioner, state ministers, Supreme Court judges, cabinet secretary, senior lawyers, chiefs of three services, members of parliament, senior political leaders, editors, journalist leaders, senior civil and military officers, academics, business community leaders, artistes and distinguished citizens also joined the reception.
President Abdul Hamid and Prime Minister Sheikh Hasina cut a cake on the occasion of the Independence and National Day. They exchanged greetings with the injured freedom fighters and other guests at the function.
Abdul Hamid and Sheikh Hasina also enquired about the wellbeing of the injured freedom fighters and assured them of extending allout support for their welfare.
Country's renowned artistes Fakir Alamgir and Bappa Mazumder presented patriotic songs at the function, among others.