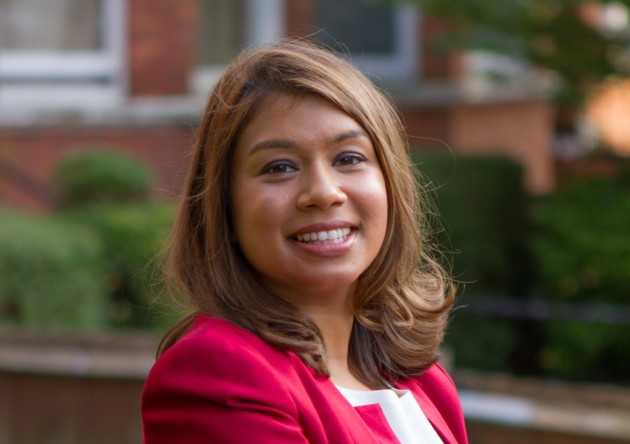 e-News® | The NEWS Company…DHAKA, Dec 30, 2015 :  British MP and "Shadow Minister" Tulip Rezwana Siddique said that she believes in the political philosophy of Father of the Nation Bangabandhu Sheik Mujibur Rahman and Prime Minister Sheikh Hasina. "That's why I joined the (British) Labour Party," she said.
"In the context of Bangladesh and my grandfather, Sheikh Mujibur Rahman and my aunt, Sheikh Hasina's, political philosophy is extremely significant. Both of them believe and fight for the rights of the common and poor people. The founding principle of the British Labour Party is also to fight for the rights of the common people," she said while talking to young people during a conversation at a city hotel. The Center for Research and Information (CRI) organized the program. Young teachers, physicians and political activists took part in the programme.
The eldest daughter of Bangabandhu's youngest daughter, Sheikh Rehana, Tulip was elected to the British parliament in May this year on a Labour Party ticket. She is the state minister for culture, media and sports in the "shadow cabinet" of her party.
She is visiting Bangladesh with her husband from December 21, this year. This is her maiden trip to Bangladesh after being elected legislator. Responding to a question about her reasons for being in politics, she said, "All my life the only thing I heard in my home was politics. My grandparents on my father's side were also extremely political and feminists. When I was nine or ten years old my father became seriously ill. At that time London's National Health Service helped my father recover. When doctors had pronounced that my father would always be confined to the bed he got up and started teaching again!"
Tulip said, "It was then that I made up my mind and decided to dedicate my life for the betterment of humanity through politics. I was involved with the Labour Party from the age of 12. I formally joined the party at the age of 16, according to the law of that land."
Tulip Siddique failed to get elected as councilor from Camden in 2006 but she remained indomitable. She said, "Although I lost the elections but I enjoyed electioneering thoroughly and prepared for the next poll and I won from the same seat in 2010".
"I was elected MP from the constituency where my parents got married," she said.
"I never thought I would be a British MP but I have become one," Tulip said.
"As a British-Bengali woman, I had to face my fair share of problems. But I have always tried to work for the welfare of the people of my area. However small the problems I have tried to resolve it. I have tried to ensure the rights of the youth in my politics. I have evolved policies for them. Probably that is what got me here."
Answering a query about her political education, she replied, "From my mother and aunt. If one wants to be in politics one has to be extremely patient. I have learnt that from my aunt. I have also learned another thing from them and that is modesty. They always tell me, whatever heights you reach, never be vain. Listen to people. Respect others. These are very important lessons in politics." Tulip Siddique passed on her message to the young generation and added "Fix your goal and stick to it. You will reach it."