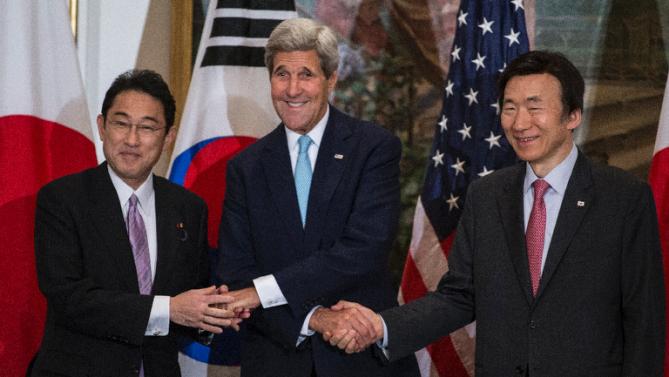 e-News® | The NEWS Company…NEW YORK, Sept 30, 2015 : The United States took a moment  Tuesday to gather the great Asian democracies to its side to reassure them of the strength of their ties in the face of North Korean threats and an assertive China.
New threats from Pyongyang, ominous economic signals and China's aggressive stance on its territorial claims in the South China Sea and the Pacific have sent jitters through the region. President Barack Obama's administration has long talked about a "rebalancing" in America's strategic focus, the so-called "pivot to Asia," but has often been distracted by crises elsewhere. Officials say 21st century America will be as much a Pacific power as an Atlantic one, but in recent months Syria, Ukraine, Iran and Cuba have used up a lot of diplomatic bandwidth.
So on Tuesday in New York on the sidelines of the UN General Assembly, senior officials from the United States, Japan and South Korea met to renew their ties and show a common front. Later in the day, Foreign Minister Sushma Swaraj of India, the world's largest democracy and a growing economic partner of the United States, was also to meet her US and Japanese counterparts. "The primary purpose of this is to recognize that the region is going through certain challenges, but also faces major opportunities," US Secretary of State John Kerry said.
Kerry cited negotiations for the Trans-Pacific Partnership — a major free trade deal — as a chance to deepen economic ties, and North Korea's rogue regime as an immediate danger to the region. Japanese Foreign Minister Fumio Kishida agreed, calling the security environment "very severe" and stressing the importance of the US-Japan and US-South Korea military alliances. After the first annual US-India-Japan trilateral meeting, the US camp said: "The three countries agreed to work together to maintain maritime security through greater collaboration."
This will include Japanese forces joining Indian and US naval vessels on the Malabar 2015 training exercise next month. South Korea's foreign minister, Yun Byung-se, said the meeting came "at a very critical juncture, when the eyes of the world are set on the major challenges involving all of us." He said the talks would send a "very clear" message to North Korea in particular not to provoke the allies.