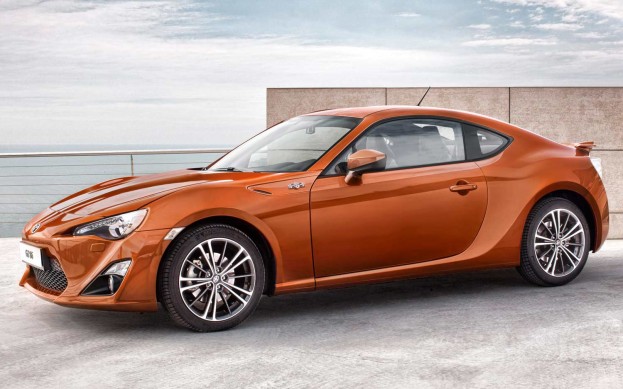 The Toyota GT 86 and its twin sister, the Subaru BRZ, are not really new. The two automakers, which developed the cars together, showed them off in Tokyo after three years of concepts upon concepts. But the GT 86 is still the most exciting car on the floor here at the Geneva Auto Show.
It's not mind-blowing in the dopamine-happy way the new Ferrari F12berlinetta is, and it doesn't make you shake your head in mild disbelief like the Pagani Huayra. The GT 86, known here in the states as the Scion FR-S,requires thinking about the cars we drive and the world we live in, but if you get it, well, then it just about eclipses everything else.
The Toyota GT 86, and Subaru BRZ, are the splendid confluence of three separate developments:
One: In the mid-1980s, power, weight and technology achieved a happy medium for driver's cars. There were rear-wheel drive cars that produced around 150 to 200 horsepower, didn't weigh significantly more than a ton, featured proper manual transmissions and handled beautifully. They did these things for not a lot of money. Cars like the BMW E30 3-Series and the Toyota Corolla AE86 are excellent examples. As time went on, automakers seemed to lose sight of this magic formula. Weight and power crept upward, and now we have 350-horsepower small coupés that weigh as much as a Mercedes-Benz sedan used to.
Two: Supercars are impressive, but not much fun in the real world. Their ludicrously overpowered engines, wild styling and close relation to racing cars all but fade into insignificance on the street. Take one for a long, proper drive and you'll find that a 600-horsepower car that accelerates like a Saturn V rocket is all but unusable on roads other people use as well. Instead of providing giggling space rides at 200 mph, they introduce the monumentally frustrating and rather novel concept of standing still at 100 mph. They are, in effect, not cars but fantasies, even for the people who can afford them.
Three: For the better part of 10 years, automakers have been obsessed with making environmentally friendly, socially acceptable and tech-heavy cars. Come to a contemporary motor show and it's all about batteries, hybrids, fuel cells, and the myriad ways your car will keep you entertained even as it takes more of the joy, and occasionally skill, out of driving. Some would blame Toyota for kicking this off with the Prius, but it is hardly alone in making cars that coddle us, not inspire us.
Source : wired.com