Under the distinguished patronage of His Highness Sheikh Khalifa bin Zayed Al Nahyan, President of the UAE, Supreme Commander of the UAE Armed Forces and Ruler of Abu Dhabi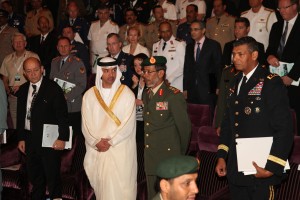 Under the distinguished patronage of His Highness Sheikh Khalifa bin Zayed Al Nahyan, President of the UAE, Supreme Commander of the UAE Armed Forces and Ruler of Abu Dhabi, and in the notable presence of His Highness Sheikh Hazza Bin Zayed Al Nahyan, National Security Advisor, Vice Chairman of the Abu Dhabi Executive Council. The conference drew high level delegations from the UAE and over 33 countries from around the world. Notable attendees included the UAE Chief of Staff Gen. Hamad Mohammad Al Rumaithi and UAE Chief of Naval Staff, Vice Admiral Ibrahim Musharrakh as well as the chiefs of staff from Saudi Arabia, Oman and Egypt and the ministers of defense from Yemen, Algeria and Tanzania the Institute for Near East and Gulf Military Analysis (INEGMA) held the official conference for IDEX 2013- the Gulf Defence Conference (GDC) on February 16, 2013 at the Armed Forces Officers Club, Abu Dhabi, UAE.
Opening Session:
Major General (Ret.) Khaled Abdullah Al Bu-Ainnain, President of INEGMA and Former Commander of UAE Air Force and Air Defence welcomed the audience with his opening remarks. He addressed the dynamic changes in the regional environment as well as defense and security relations throughout the region.  Major General Al Bu-Ainnain stated that IDEX is an important platform for countries to demonstrate their technologies and build regional connections.  The triad of air, land, and sea is a critical component of coalition operations.
The French Minister for Defence -His Excellency Jean-Yves Le Drian, presented the first keynote speech stating that the French point of view on regional affairs looks at the importance of cooperation in security and defense.  A number of threats, including nuclear proliferation and terrorism, were key themes of his speech, ranging through many geographical areas throughout the Middle East and North Africa.
Major General Rashad Mohamed Salem Al Saadi, Commandant at the National Defense College in UAE presented his keynote speech on behalf of the UAE Armed Forces. He reiterated that no modern nation can claim to have a good military without an efficient and effective tri-force, air, land and sea stressing the important and active role of the UAE leadership and it's Armed Forces' in investing in manpower and productive partnerships to enhance stability and promote progress.
The Opening Session was concluded with the third keynote speech presented by the UK Minister for Defence Equipment, Support and Technology, Philip Dunne, MP.  He asserted that the UK-UAE strategic dialogue is important for security and prosperity of the Gulf and emphasized on the role of trust and collective interests.  Of particular interest to UK security, is the Gulf global role in energy as well as the fight against terrorism.  Mr. Dunne also talked about combating nuclear proliferation and Iran.  Finally, he argued that the way forward for defense engagement strategy is through physical presence as emphasized by joint countermine exercises to be held in May 2013.
First Session:
The First Session "New Paradigms in Land Warfare" was moderated by Major General (Ret.) John M. Urias, President of Oshkosh Defense and featured three speakers. Starting with Lieutenant General Vincent K. Brooks a Commanding General at the Third Army/US Army Central,  who delivered a lecture on the "Future Role of Land Forces: How the Changing Nature of Warfare Impacts Unified Land Operations." He argued that the era of large armies was over and that the role of coalitions paves the way for the future. Lieutenant General Brooks argued that the role of any future land force would be 1) Direct Action; 2) Seize and control energy infrastructure or to provide security; 3) Helping to return civil society; 4) Joint operations, and 5) Security borders.
His presentation was followed by that of His Excellency Staff Major General Ali Mohamed Subaih Al -Kabi, Military Advisor to H.H. Deputy Supreme Commander of the Armed Forces in UAE who presented "The Role of the Military in Humanitarian Relief and Peacekeeping Operations: Best Practices from the UAE." His presentation provided an overview on UAE operations in Afghanistan, Pakistan, Syria and Libya.
The First Session was closed by Major General (HEA) Nikolaos Zachariadis, the Chief of Staff at the NATO Rapid Deployable Corps in Greece, who gave a presentation about "Force Mobility as a Strategic Imperative – Enabling Approaches in Technological and Doctrine Development."  Major General Zachariadis asserted that force mobility, as a strategic imperative, is dependent upon the aggregative result from the employment of relevant doctrinal perspectives and leading edge technology applications.
Second Session:
The Second Session "Future Air Power Transformations" was moderated by Colonel Fabian  Ochsner, Chief of the Ground-Based Air Defence, Air Operation Center in the Swiss Air Force featuring three speakers. Lieutenant General André Blattmann, Chief of the Swiss Armed Forces, delivered a presentation entitled "New Tasks for Ground Based Air Defence." He discussed Ground Based Air Defense (GBAD) in terms of Military Operations Other Than War (MOOTW) and future plans for the protection of critical infrastructure and air space for both commercial and military interests.
Following that, Major General Hwang Jong Soo, Deputy Army Chief of Staff for Force Planning in South Korea, delivered a lecture on "Managing Today's UAV Acquisition Programs to Meet Tomorrow's Requirements – The Force Readiness Dilemma" which examined the Republic of Korea's (ROK) current and future UAVs status.
This session was concluded by Major General Leszek Cwojdzinski, Director of the Armaments Policy Department at the Ministry of National Defence of Poland, who presented the topic "Air Defense Mobility: Supporting Land Forces in the Modern Battlespace."
Third Session:
The Third Session of this one day conference addressed the topic of "Naval Force Projection and Future Maritime Operations" and was chaired by Dr. Theodore Karasik, Director of Research & Consultancy at INEGMA. This final session presented three speakers: Vice Admiral Marin Gillier, the French Commander of Indian Ocean Maritime, who spoke about the "Environment of Naval Future Operations and Consequences;" Admiral Giuseppe De Giorgi Chief of Staff of the Italian Navy, who delivered a presentation on "Stealth and Firepower in Naval Warfare – The Next Generation Of Warships," and finally Vice Admiral Muhammad Shafiq HI (M), Vice Chief of Naval Staff in Pakistan who concluded the conference with a presentation on "Multi-Mission Capabilities for the 21st Century Navy – Addressing Transformations in the Operating Environment."
GDC 2013 sponsors were: Gold Sponsors: Oshkosh Defense and Rheinmetall Defence.
Silver Sponsors: Baynuna Group, Finmeccanica, Nexter, MBDA, UTC Aerospace Systems.
The conference concluded with enormous success.
Official Press Release to e-NEWS Publications