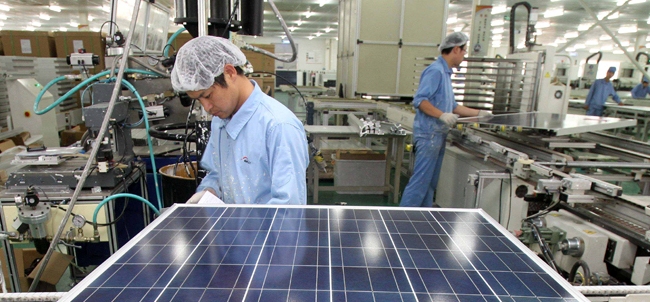 The local solar panel manufacturers are seeking protection from the government as they are facing stiff competition with the low quality imported panels.
"If we get protection from the government we can meet the local demand and go for export in large scale," said Tanjil Chowdhury, president of newly formed Solar Module Manufacturers Association of Bangladesh (SMMAB).
Golam Baki Masud, managing director of Greenfinity Energy Limited which for the first time exported solar panel to Mlayasia, said that they were very much frustrated with the inflow of low quality panels from abroad.
"The situation is so bad that some local manufacturing units would be forced to close down their factories as they are struggling hard due to lack of price competitiveness," he said.
The Chittagong based local company Greenfinity Energy Ltd has exported US$ 100,000 worth of customized mono crystalline solar panel to Malaysia. "We have started exporting high tech-solar panel to Malaysia since March of this year and hope to enter into the market of Saudi Arabia and Kuwait very soon," Baki said.
The company expects more export orders from Malaysia and some Middle Eastern countries as the demand of the panel is huge in those countries. The sources said the country does not need to import solar panel as the local companies can produce some 160 megawatt solar panel against the local consumption of 70 megawatt a year.
The local production can be increased to 300 megawatt within a short period, he said. According to Tanjil Chowdhury, the sector can generate employment for thousands of people and bring several billion dollars in foreign currency per year. "The export earning from the sector can be more than one billion dollars within a decade," Tanjil claimed. The solar panel manufacturing job is labour intensive and that it can generate employment to women folks of the country, he pointed out.
The association was formed recently with 10 local manufacturing units to raise their voices and bargain with the government on various issues regarding development of this nascent industrial sector, according to sources.
"We do not want imposing a ban on solar panel imports at this moment but some protection like tax rebate and tax holiday to the local industries are necessary for development of the sector in future," Tanjil said.
According to local manufacturers, some low quality solar panels are being imported from China and Taiwan, creating obstacles to the development of local industries. He alleged that the country also lacked any regulatory authority or testing facilities for these products.
The country like Nepal does not import solar panel without testing. The local producers alleged that though the minimum longevity of quality solar panel is 20-25 years, most of the imported panels start loosing its power within one or two years. Golam Baki Masud pointed out that the imported items should go through close checking so that low quality goods can not enter into the local market.
The market of solar energy is huge as these products can be used in cars, street lights, lab research, close circuit camera, residential buildings, surveillance schemes and many other purposes. According to sources, the local companies are also producing customized solar panel for use as mobile phone chargers and bill boards. A bill board operated by solar panel has already been installed at GEC intersection in Chittagong. According to sources the Indian government has already banned import of poly-crystalline and mono-crystalline panel, and will stop importing solar cells from 2013. The Greenfinity has installed a first solar testing lab (1 MW) at the Bangladesh Atomic Energy Commission (BAEC) in Dhaka.
Source: The Independent