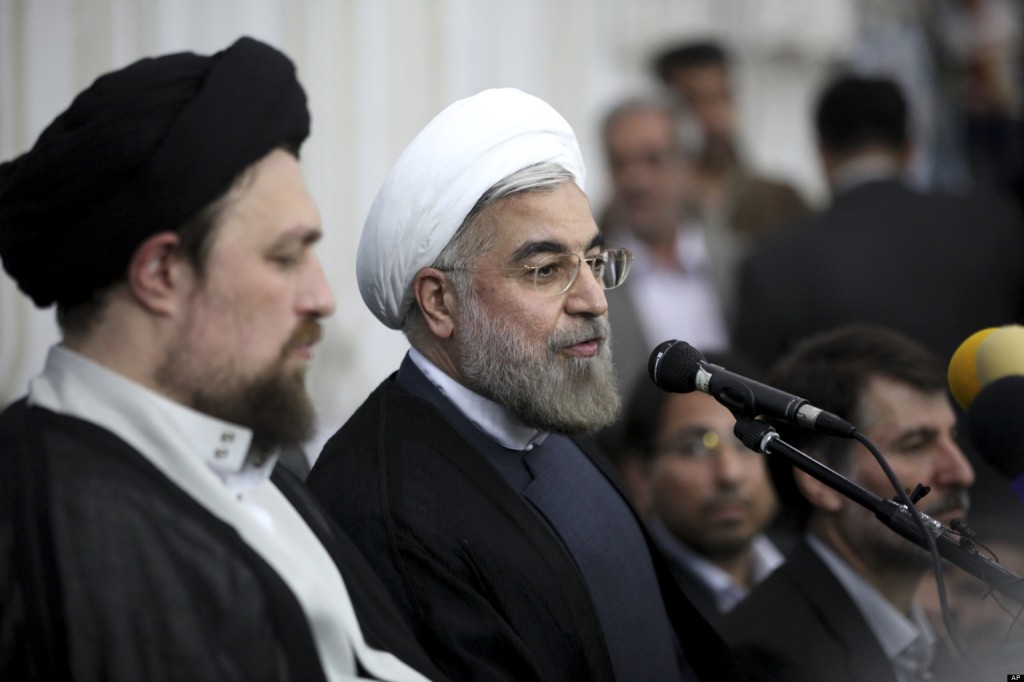 Only actions can differentiate between a "moderate" and a "conservative" or a "hardline" politician. This is how an Arabian Gulf official reacted to all the discussions by world leaders and analysts commenting on the sweeping victory of Hassan Rohani in the recent Iranian presidential elections. Most international media outlets have branded Rohani as "moderate" and even Rohani described his victory as a triumph for "moderation over extremism." But what does it really mean to be a moderate politician in Iran, and does it match the Arab or Western definitions of a "moderate"?
Expectations by the West and Iran's Arab Gulf neighbors are that as a moderate leader, Rohani will show more flexibility on the controversial Iranian nuclear program, be willing to suspend uranium enrichment, and will also end Tehran's intervention in Arab affairs, especially in countries like Syria, Bahrain and Yemen. Hopes are high that he will also be open to negotiate with the United Arab Emirates (UAE) regarding the fate of the three disputed islands Greater and Smaller Tunbs and Abu Musa. However, Rohani did not indicate in any way in his campaign speeches that he will be willing to review any of these policies. So far we have only heard vague rhetoric about being more open and engaging with the international community than the outgoing hardline President Mahmoud Ahmedinejad. The backing he received from reformers like former presidents Ayatollah Hashemi Rafsanjani and Mohammed Khatami prompted domestic and international media to brand him as "moderate."
We already know much about Iranian Rohani's background. He is an insider (khadi) who is faithful to the Islamic Republic and its tenets. He is a Mullah – a jurist (mujtahid) – and serves to date as a member of the Assembly of Experts and a member of the Expediency Council, and is the Secretary General of the Supreme National Security Council as well as head of the Center for Strategic Research. He is also a former nuclear negotiator with the West from 2003-2005. Some of Iran's clandestine nuclear activities were launched when he was the lead nuclear negotiator. So, we can safely say he strongly support Iran's possession of a full-cycle nuclear program, which is not accepted by the United Nations Security Council.
Compared to the outgoing Iranian President Ahmadinejad, Rohani is much more experienced in the security field as the former president was more provincial in his outlook, with his rhetoric on security and more attuned to insults, barbed criticism, and messianic overtures. Rohani is more diplomatic and will likely prefer soft diplomacy and strong engagement with Middle Eastern neighbors to break barriers. His focus on the economy was very clear throughout his campaign, and his objective will be to improve foreign relations in the hope of easing international sanctions and bettering the economy. He said during the campaign, "If we want to compete with countries like Turkey, Malaysia, and South Korea, we need to create a real revolution in our economy." In addition, Iran will face new U.S. sanctions beginning July 1, 2013 that will hurt the weakened Iranian economy even more. So Rohani has major issues to deal with on the domestic front to stop the closing of factories and the plunging value of the Iranian Rial. As a close associate of Khatami and Rafsanjani he is likely to be a supporter of the vision that sees Tehran ascending to regional supremacy via its economic ties and capabilities. While Ahmedinejad is of the camp that advocates military and security means to establish Iran as a regional power, Rohani in turn is believed to be of the camp that favors dialogue with the international community and building strong economic relations to bring about an Iranian renaissance that will help Tehran rise to a major regional political power without the need to resort to military means.
The question is, can Rohani reverse what Ahmedinejad had started with his extreme policies over the past eight years? Can he stand up to the Iranian Revolutionary Guards Corps (IRGC) and the Quds Force that Ahemdinejad helped empower during his reign? The Quds Force today oversees Iran's foreign policies in various hot points like Syria and Yemen. It will not be easy at all for Rohani to convince the real decision maker in Tehran, the Supreme Leader Ayatollah Ali Khamenei, to abandon the dangerous policies of the IRGC Quds Force that have helped inflame the Sunni-Shiite sectarian divide to unprecedented levels. These tensions have grossly undermined Iran's relations with its Arab neighbors, and even with some of its long standing allies like the Muslim Brotherhood and Hamas. Rohani cannot even think of improving his relations with the Arabian Gulf without ending the direct involvement of the IRGC and Hizbullah in the Syrian conflict. It might even be that the policies the IRGC have put in motion abroad have gone so far and done so much damage that it would be too late for Rohani to stop or do anything about.
In the nuclear security arena, Rohani's plate will likely be filled with defining and repackaging the Iranian nuclear program to the world. The two main interlocutors between the Iranian state on nuclear negotiations and inspections, the P5+1 and the IAEA, will now be tempted to seek out Rohani's position on Tehran's views and access to nuclear facilities. Rohani is clever and new opportunities will be put on the table but the United States and Europe should be fully aware that any fresh ideas may be part of Iran's ongoing ability to dodge and delay as Tehran apparently moves to "breakout" of its nuclear weapons capability. Finally, it will be critical to see how Rohani interacts with Iran's current nuclear negotiator, the former IRGC commander Said Jalili; Rohani is openly critical of Jalili for taking an obdurate approach to the West. It is widely expected among Iranian observers that Rohani will soon replace Jalili with one of his own people, and will revamp the entire nuclear negotiations team to enable himself to have any influence on the opinion of Khamenei who has the final word on this issue and all matters in Iran.
Of course, Iran under Rohani will continue to hope to keep Syria as a strong strategic ally, but will find himself at odds with the IRGC on whether Tehran should continue to be on the Syrian regime's side or try to build new ties with the Syrian opposition and facilitate an exit strategy for Hizbullah from the Syrian conflict. Such an exit could be needed in order to reduce sectarian tension that will continue to undermine Iran's relations with the Arab and Islamic world and subsequently worsen its economy. Some Iranian observers believe Rohani will fight his toughest battles with the IRGC on the Syrian crisis, and the outcome will not be easy to predict. Rohani will likely be quick to welcome any internationally-sponsored solution for the Syrian conflict that will ensure the survival of the regime even with President Bashar Assad not included in it.
In regards to other Middle Eastern states undergoing transformation from the 2011 Arab Spring, Rohani is expected to travel to many of these countries to test Iran's current clout and to see how these states can interact with an Iran with a new, more sophisticated president despite the heightening Sunni-Shiite divide. His biggest challenge will be Egypt where President Mohamed Mursi cut ties to Damascus and endorsed a no-fly zone as well as calling for Hizbullah to leave Syria just one day after the Iranian presidential election. The President-elect likely knows that engagement with countries such as Egypt at this time is crucial in order to reduce the sectarian split that is sweeping the Middle East.
Lastly, for the GCC, Rohani's presidency may be a welcome relief from the rhetoric of the former president. The real issue is how much he will be able to change policy towards the GCC states and each Arab Gulf state in particular. It is hoped that some quick confidence building measures could help mend relations and put them back on the right track as they were before Ahmedinejad came into office. In addition, for the UAE, Rohani offers an opportunity to discuss the three islands issue in a civilized manner without provocative remarks and actions that were adopted under Ahmedinejad.
Finally, it is to be noted that during the lead-up to the vote that Rohani used the theme of "constructive interaction with the world." The key test for this concept will be over the Iranian nuclear program and Syria, which are now intertwined. In addition, Iranian policy will be smarter but with the same strategic security goals. However, it will not necessarily mirror IRGC goals: building a nuclear program and increasing influence in the region via the Syrian maelstrom. It could be the same vis-à-vis the nuclear program with some tactical changes, but will likely differ on Syria with the aim of defusing sectarian differences and improving economic prospects with Iran's neighbors. The trick for Rohani will be how long he can make his "presidential honeymoon" last with his sophistication and wit. We must remember that Mullah Rohani is a conservative and will, at the end of the day, follow Grand Ayatollah Ali Khamenei's instructions fully and completely regardless of what his wishes may be.
Source –     INEGMA @rrajowan
Riad Kahwaji, CEO, INEGMA & Dr. Theodore Karasik, Director, Research and Consultancy, INEGMA