Rajdhani Unnayan Kartripakkha for the third time on Tuesday invited applications for allotting around 1,200 plots in its Jhilmil Residential Area project in Keraniganj.
Applications forms will be made available from June 1 at Rajuk branches of Sonali Bank, Janata Bank and Agrani Bank and Janata Bank's Ramna corporate branch and Mohakhali and
Uttara branches, said a Rajuk circular which is available on Rajuk website 'www.rajukdhaka.gov.bd'.
The application forms will also be made available on Rajuk's website 'www.rajukdhaka.gov.bd' and Bangladeshi expatriates will be able to submit applications through on-line by collecting the application forms from Rajuk website.
The last date of submitting applications is August 25, 2011.
The plots will be allotted through computerised lottery system. Bangladesh University of Engineering and Technology will conduct a lottery for allotting the plots, Rajuk chairman Nurul Huda told New Age.
Plots will be allotted in three categories and the categories are 2.5 katha, 3 katha and 5 katha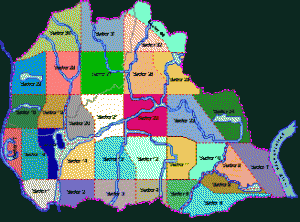 The deposit amount has been set at Tk 1 lakh for a 2.5 katha, Tk 1.5 lakh for a 3 katha and Tk 2.5 lakh for a five katha plot.
Sources in Rajuk said the they took the initiative in 1997 for developing the housing project adjacent to Dhaka-Mawa Highway at Suvadda, Chunkatia and Tegharia moujas of Keraniganj to solve the housing problem of the residents of Dhaka.
According to the new guidelines, people in 15 categories will be eligible to apply for plots.
The categories are freedom fighters, journalists, government employees, officials and employees of autonomous bodies, officials and employees of armed forces, businessmen and industrialists, private job holders, private teachers, arts, literary and sports personalities, remittance earners, lawyers, agriculturists, engineers, and doctors.
Ministers, state ministers, speaker, deputy speaker, lawmakers and judges will qualify directly if they apply.
Among the project's affected people, each landowner with more than 10 katha of land will get a plot while the others will get flats, said a Rajuk official.
Jhilmil project director Sheikh Jahid Hasan Faruqui said they have already completed 90 percent of land-filling and 45 percent of overall works so far.
[download id="80″]
[download id="81″]
[download id="82″]
Author : Taib Ahmed, Source : RAJUK