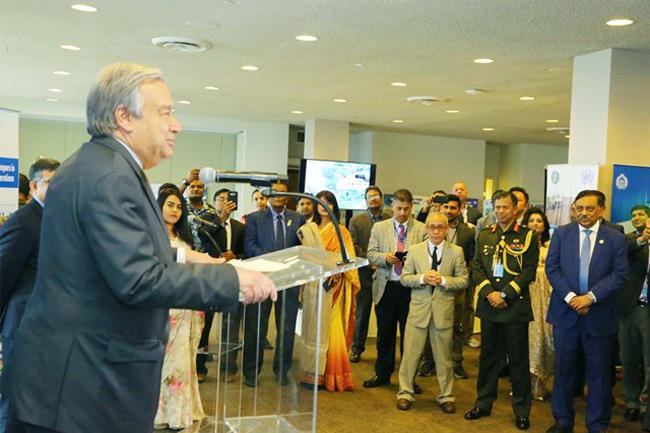 #thenewscompany :  A total of 1,56,188 members of Bangladeshi peacekeepers have brighten the country's image in the world completing 54 United Nation Peacekeeping operations in 40 countries in the last three decades, said an Inter Service Public Relation (ISPR) media release on Thursday.
Of the Bangladeshi peacekeepers, 1,26,880 members are from Bangladesh Army, 5,085 from the Bangladesh Navy, 6,124 from the Bangladesh Air Force and 18,099 members from Bangladesh Police, reports the UNB.
During the period, 142 Bangladeshi peacekeepers sacrificed their lives, while 223 others were injured during performing their responsibilities. The sacrifices of the peacekeepers, their heroism, will be written in the history of world peacekeeping, said ISPR.
United Nation and Bangladesh jointly organized a weeklong event titled, '30 Years of Bangladesh in UN Peacekeeping Operations (UNPO),' at the UN headquarters to celebrate the 30 years of Bangladesh in the UNPO recently.
United Nations Secretary‑General António Guterres, Bangladesh's Financer Minister Abul Maal A. Muhith and Home Minister Asaduzzaman Khan Kamal jointly inaugurated the weeklong event on April 25. Many prominent personalities from home and abroad and various Staff Officers of the UN attended the ceremony.
Bangladesh started its journey to UN peacekeeping missions in 1988. For the past 30 years, it has been performing its responsibilities very successfully with UN peacekeeping missions. The United Nations recognizes this achievement with great importance and preached it in various media.