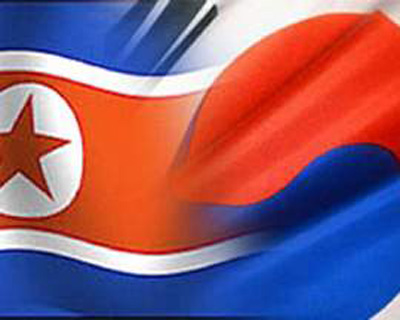 e-News® | The NEWS Company…SEOUL, Sept 2, 2015 : North Korea on Wednesday accused the South of misrepresenting their agreement to defuse tensions and warned the hard-won deal was being undermined by claims Pyongyang had made an apology for border landmine blasts. The explosions maimed two South Korean soldiers on patrol last month and triggered a crisis that brought the rivals to the brink of armed conflict.
A deal to de-escalate tensions was reached last week following marathon talks in the border truce village of Panmunjom that committed them to starting an official dialogue. a spokesman from Pyongyang's powerful National Defence Commission (NDC) said the South was misrepresenting the agreement and claiming North Korea apologised for the explosions.
According to the six-point deal, the North "expressed regret" over the incident, but the NDC spokesman said Pyongyang was merely offering condolences to the victims. "To put it simply, it was no more than saying 'I'm sorry about your suffering'," he was quoted as saying by the official KCNA news agency. The spokesman also attacked the South for conducting a massive joint live- fire drill with the United States after the agreement. "Should the South leave the current situation as it is, the precious sprout for national reconciliation would be nipped by severe frost and the North-South relations would be pushed back to confrontation," he said.
"The South Korean authorities must stop interpreting the deal in a foolish way and refrain from words and acts that threaten hard-won peace". South Korea fired back at the North's criticism, saying the deal was predicated on Pyongyang's apology. "This is not a time for back-and-forth over the wording. The two sides should implement the agreement in full faith and move forward", Jeong Joon- Hee, spokesman for the unification ministry which oversees cross-border relations, told journalists. The two rivals came close to conflict last month after South Korea, in retaliation over the blasts, switched on banks of giant speakers, which had lain silent for more than a decade, blasting propaganda messages into North Korea.
The North denied any role in the mine blasts and issued an ultimatum for the South to halt its "psychological warfare" or face attack. The crisis was defused following tense talks, with North Korea expressing "regret" over the incident and the South agreeing to turn off the loudspeakers. South Korean President Park Geun-Hye attributed the deal to her government sticking to its guns while keeping the door for dialogue open.
North Korean leader Kim Jong-Un however played up Pyongyang's role in taking control of the situation and clearing "the dark clouds of war", during a speech to the country's Central Military Commission last week. Kim described the agreement as a "crucial landmark occasion" that offered the nations a path to improve relations. Previous agreements that appeared to offer a new way forward for relations have generally stumbled straight out of the gate.