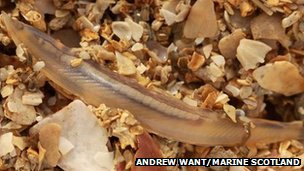 Scotland's biggest horse mussel bed and a "faceless and brainless" fish-like creature were recorded during government-backed surveys this year.
The work covered almost 2,200 square miles – equivalent to an area one and a quarter times the size of the Cairngorms National Park.
The Scottish government has hailed the finds made during the surveys.
WWF Scotland said the results highlighted the need to better protect the marine environment.
Scottish Natural Heritage and Edinburgh's Heriot-Watt University were among organisations that carried out the work.
Underwater video was shot and acoustic and 3D images were used in the surveys.
Vessels from Marine Scotland, the Scottish Environment Protection Agency (Sepa) and the Northern Lighthouse Board were also involved.
Several rare species were recorded.
Off the west coast, fan mussels were found. Growing to up to 48cm long, the mussels are Scotland's largest sea shell.
Around the Small Isles more than 100 specimens of marine life were noted.
Off Tankerness on Orkney, the government said the prehistoric "faceless and brainless" amphioxus was recorded.
The rarely-seen species was regarded as a modern representative of the first animals that evolved a backbone, the Scottish government said.
With a nerve cord down its back, the fish does not have a clearly defined face or brain.
The largest horse mussel bed in Scotland was recorded near Noss Head in Caithness.
The molluscs stabilise seabeds, which in turn provides habitat for other species, and can live up to 50 years.
Other finds included flame shell beds in Loch Linnhe in Argyll and new communities of northern feather star off the Sound of Canna.
Environment Secretary Richard Lochhead described the finds as "weird and wonderful".
He added: "The waters around Scotland are rich in such fascinating biodiversity and it's our responsibility to protect this fragile environment.
"That's why we have ramped up our marine survey work, with plans being prepared for new surveys in 2012 to further our knowledge of what lies beneath Scotland's seas."
'Future generations'
Susan Davies, director of policy and advice with Scottish Natural Heritage, said Scotland's seas were a "fantastic asset".
She added: "The findings from these surveys will help us to manage them sustainably and ensure future generations can also enjoy the benefits of a healthy and diverse marine environment."
WWF Scotland's head of policy, Dr Dan Barlow, said the surveys had confirmed that the seas and coasts provided important habitats for wildlife.
He said: "From helping inform the appropriate deployment of marine renewables to supporting the roll out of a network of Marine Protected Areas, these survey findings will prove invaluable in helping ensure the recovery of Scotland's seas.
"It is important that the government builds on this survey work to further our knowledge of the marine environment."
Source : BBC