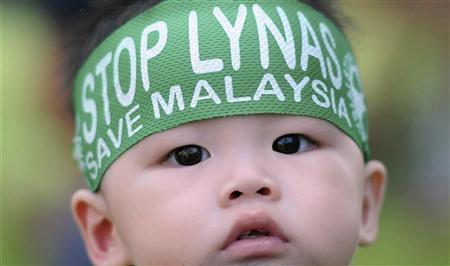 A Malaysian court has kept on hold a license granted to Lynas Corp Ltd's controversial rare earth plant, delaying until next month a decision on whether to consider judicial reviews aimed at permanently blocking production.
Australia's Lynas, which received a temporary operating license for the $800 million plant early in September, had aimed to start production this month.
The firm confirmed in a statement that the launch would be delayed and gave no new timetable.
Protests in Malaysia over possible radioactive residue have drawn thousands of people and the project has become a hot topic ahead of an election that must be held by early next year.
Activists linked to the environmental group Save Malaysia Stop Lynas want the court to suspend the license until two judicial review cases challenging the government's decision allowing the plant to operate are heard.
Lynas says that its plant is safe and is not comparable to a rare-earths plant in Malaysia that was shut by a unit of Mitsubishi Chemicals in 1992, after residents there blamed the plant for birth defects and a high rate of leukemia cases.
Hon Kai Ping, a lawyer for the environmental group, said the decision had been delayed by the Kuantan High Court until November 8.
It was not immediately clear the reason for the delay, but the environmental group plans to bring in more expert witnesses.
"It is another month of relief but we won't be satisfied until Lynas is out of Malaysia," Jade Lee, a member of the Save Malaysia Stop Lynas group and a resident of the eastern city of Kuantan where the plant is located said after the court ruling.
Shares in Lynas had closed Wednesday's session 1.2 percent down ahead of the court decision.
The rare earth plant — the biggest outside China — has been ready to fire up since early May, but the company has been embroiled in environmental and safety disputes with local residents since construction began two years ago.
The plant is considered important to breaking China's grip on the processing of rare earths, which are used in products ranging from smartphones to hybrid cars.
Source : Reuters