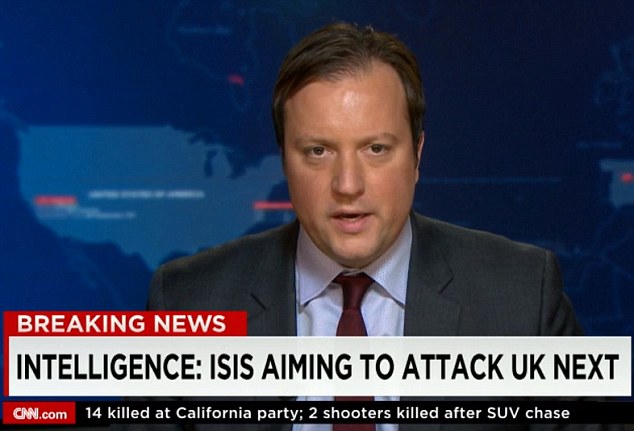 e-News® | The NEWS Company…York, December 04, 2015 :  ISIS has identified the UK as their next target, security expert has warned He said European security chiefs have 'specific information' about plans British jihadists in Syria are being sent home to carry out attacks, he added Some 800 Britons have fled to join ISIS and up to half are back in the UK. ISIS fanatics have identified the UK as their next target, a security expert has warned. British-born jihadists who have travelled to Syria to join the extremist group have been tasked with returning home to carry out a Paris-style terror attack within weeks, it was claimed. European security agencies have reportedly obtained 'specific intelligence' that Britain is next on the ISIS hit list, with the risk heightened in the wake of the Commons vote which saw a majority of MPs back airstrikes on the terrorists' strongholds in Syria.
In a chilling warning, CNN terrorism analyst Paul Cruickshank said he had spoken to an unnamed 'senior European counter-terrorism official' who received intelligence that ISIS is 'aiming to hit the United Kingdom next'. He said: 'The intelligence suggests that British ISIS operatives in Syria and Iraq are being tasked to return to the UK to launch an attack against the United Kingdom. He added: 'They are treating this very, very seriously indeed' but said 'it is not clear how imminent this threat is'. During the debate in the lead-up to the airstrike vote, MPs were told that seven ISIS plots have been foiled in the last year, with intelligence agencies warning attacks are being orchestrated from Syria.  Last month it emerged that the number of Britons who have fled the country to fight for ISIS or rebels in Syria has hit 800. The defence review said up to 400 are now back in the UK.
'A large proportion were previously unknown to the police and security agencies,' the report said. 'Some of these, and many of those who remain in Syria, pose a threat to our security.' Mr Cruickshank pointed to the case of Aine Davies, a suspected associate of British ISIS terrorist Mohammed Emwazi, also known as Jihadi John, who was detained in Turkey last month.  Davis, originally from Hammersmith, is thought to have operated as a guard at an ISIS prison holding foreign hostages in Syria, and was arrested on his way back to the UK. The security expert said Turkish authorities believe 'he was on his way back to Europe with attack plans from the ISIS leadership in Syria and Iraq'. He added security concerns had been 'compounded' by the crunch Commons vote on Wednesday night.
Within hours of the vote, seven precision-guided 500lb Paveway bombs were dropped on ISIS-controlled oil fields during two separate raids by Tornado jets flying out from RAF Akrotiri, in Cyprus. The MoD said that the raids appeared to be 'successful' as military sources vowed to target 'the head of the snake'. Last night, more RAF aircraft took off for missions over Syria.  Mr Cruickshank added there is 'a concern in Europe, particularly in the UK now, that what we saw in Paris – an attack like that – could play out again in the United Kingdom in the weeks ahead.'