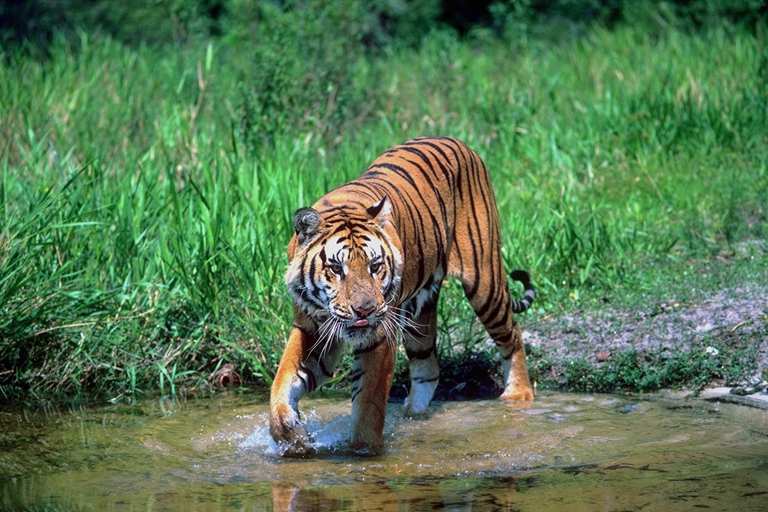 e-News® | The NEWS Company…KHULNA, Jan 13, 2016 : The forest officials today said the Sundarbans witnessed no incident of tiger poaching in the past six months as an intensified security campaign involving people in the neighbourhood appeared to have succeeded in driving out poachers from the world's largest mangrove forest.
"No incident of poaching took place in the past several months since the joint anti-poaching campaign was launched in September last year," forest conservator for the Khulna Zone Zaheer Uddin Ahmed told #thenewscompany. He said the community involvement under three separate committees to save the famous Royal Bengal tigers alongside the intensified anti-poaching security clampdown visibly yielded a remarkable outcome. The latest census in July last year revealed that the tiger population rapidly dwindled with only around 100 big cats remaining in the mangrove forest stretching both Bangladesh and Indian coastlines, sparking a massive uproar and prompting authorities to launch an intensified security and protection vigilance.
Six alleged tiger poachers were killed in what officials said a gunfight with police in August 2015 against the backdrop of the uproar while the forest department subsequently prepared a list of 475 suspected tiger and deer poachers to be hunted down. Forest officials said the list was also provided to navy, coastguard, elite anti-crime Rapid Action Battalion (RAB) and police alongside their own forest guards while massive initiatives were taken to involve the residents in the neighbourhood to protect the forest and its wildlife.
"None of the listed poachers, however, could be arrested . . . they appeared to have fled the Sundarbans in view of the security clampdown under a task force," a senior police officer told #thenewscompany.
Deputy Inspector General (DIG) of Khulna Range Police M Moniruzzaman said most of the poachers and robbers visibly disappeared or went into hiding as the task force continued to hunt them down though many of them were killed in shootouts or arrested previously under routine vigils. Forest officials said alongside the security clampdown, they formed three committees called Co-Management Committee (CMC), Village Tiger Forums (VTF) and Village Tiger Response Teams (VTRT).
The CMC, they said, comprises NGO's and community leaders at the policy level, the VTFs aimed to motivate people at grassroots against poaching and VTRTs virtually were grouping of volunteers in anti-poaching clampdowns.
"These initiative ensured the local peoples effective role in protecting tigers and other wildlife in the Sundarbans . . . they kept a constant anti-poaching watch," a forest official said. Officials said some 55 tigers were poached alone in the last 15 years (2001-2015) in the Sundarbans, of which 17 were killed in the Sundarbans East Zone while 21 in the Sundarbans West Zone.
During the 15 years, the forest department data showed, 23 tiger skins, three tiger cubs and huge number of skeletons were seized from different parts of the country while efforts were underway to smuggle those out of Bangladesh.
BSS