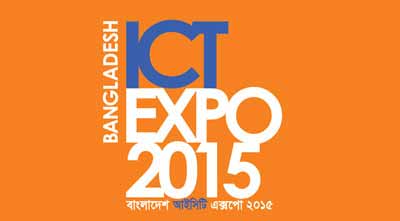 e-News® | The NEWS Company…Dhaka, June 17, 2015 :  The three-day ICT Expo-2015, concluded here today, saw huge crowds, especially the young ones, in its seminars as experts shed lights on new technologies of the most modern innovation of science for everyday use.
Today's seminar was titled "Future Technologies", where experts spoke on battery technology, security and protection and 3D printing, among others. While speaking on the 3D printing, an IT expert, also the Deputy Managing Director of Project Builders Limited, Engineer Sirajul Islam narrated how the technology can play a vital role in the medical sector, especially for manufacturing artificial organs.
"It is not a dream anymore. It is a reality, it is happening right now. This technology may bring a fundamental change in the manufacture industry," he said.
He also laid emphasis upon paying greater attention on security and protection, saying, "For catching the bad guys, we first need to learn their technology. For catching hackers, we have to have knowledge on hacking. For preventing someone from putting virus on the system, we need to learn the process of doing it." Other experts also stressed upon employing people in managerial posts, having the IT knowledge.
They also highlighted the issue of IOT (internet of things), saying it can bring a significant change in the day to day life-activities, leisure time and taking medical help. Director of Bangladesh Association for Software and Information Services (BASIS) Ashraf Abir spoke on the occasion, among others.
Another seminar titled "Transforming Education to Digital" was held today. The three-day ICT-Expo 2015, concluded today, showcased immense potentials of the Bangladesh ICT industry, especially in the hardware sector, and upheld the vision of manufacturing segment.