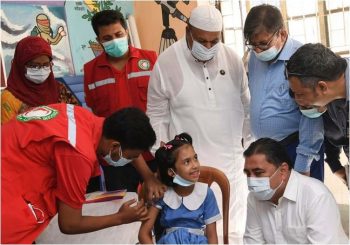 #thenewscompany : State Minister for Primary and Mass Education Md Zakir Hossen today said the government has taken the initiative to vaccinate all children aged 5-11 years in the country to ensure child safety.
"Children will be vaccinated at school as it is important to provide them with safety and ensure safe education," he said. The state minister said this while inaugurating the vaccination programme for children at Nilkhet Government Primary School in the capital. Senior officials of the Ministry of Health and Family Welfare accompanied him at the function.
According to the sources of the Directorate General of Health Services (DGHS), a total of 15 lakh 2 thousand and 400 doses of special vaccine-Pfizer for children aged 5 to 11 years to prevent coronavirus arrived in the country on July 30.
Zakir requested the parents to register the births of the children and immunize them. The lists of children have been prepared by the concerned educational institutions with the help of the Ministry of Primary and Mass Education, a press release said.
The estimated number of children of this age group in the country is 2.20 crore, the release added. This vaccination programme started in 186 schools of 12 city corporations and some 15 schools in the capital from today. Students at district and upazila levels will also be vaccinated in phases.