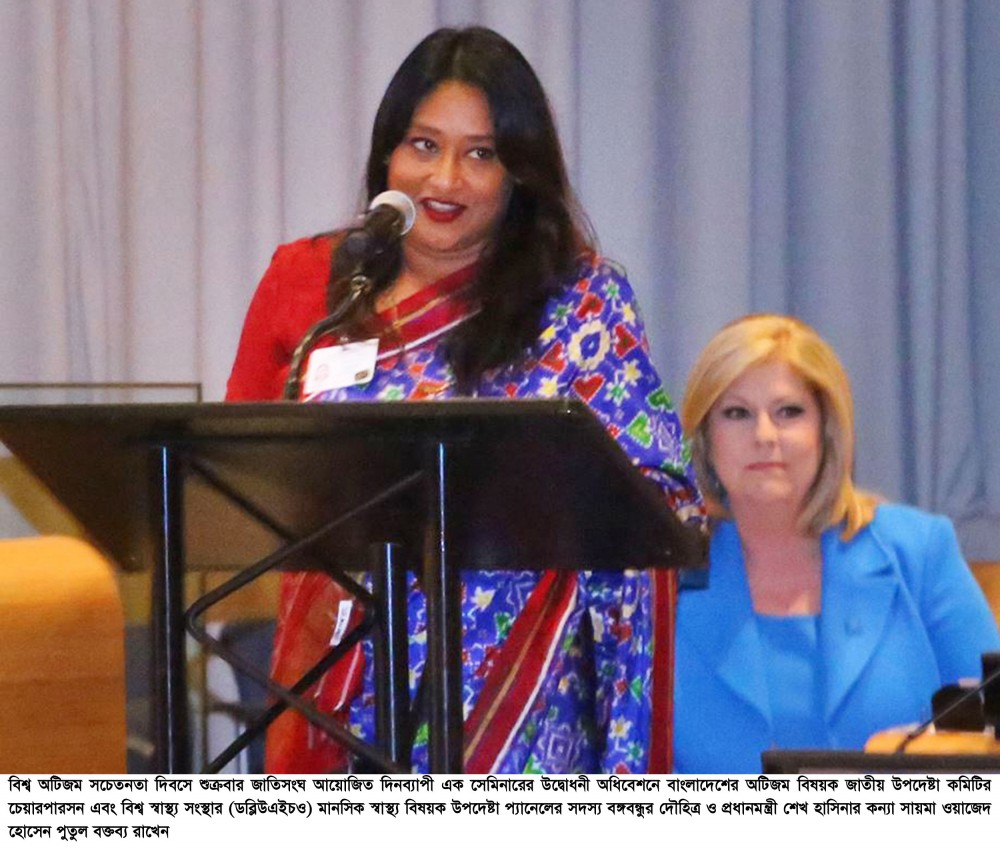 #thenewscompany
– National Advisory Committee on Autism Chairperson Saima Wazed Hossain also the daughter of Prime Minister Sheikh Hasina said the government is very much sincere to fulfill its commitment ensuring all kinds of rights of the persons with disabilities, including autism.
"My country, Bangladesh , the Awami League Government and in particular my mother Prime Minister Sheikh Hasina have always been strongly committed to ensure the rights and well-being of persons with disabilities, including those effected by autism and other neuro-development disorders(NDD)," she said.
She was presenting the key note paper at a seminar titled 'Facing Autism:Strategies of World Community in the Light of SDGs' at the United Nations headquarters in New York on the occasion of World Autism Awareness Day on April 1, said a press release.
Saima, also a member of World Health Organization's (WHO) expert advisory panel on mental health was a moderator of an event titled "Elimination of Disparity" jointly organised by Bangladesh, India, Qatar, South Korea and 'Autism Speaks'- an autism advocacy organization in the United States.
Saima said, "We take our international commitments very seriously. Bangladesh is among the few countries in our region that have not only ratified the Convention on the Rights of Persons with Disabilities but have also ratified the Optional Protocol."
The Constitution of Bangladesh recognizes the rights of vulnerable segments of the population, including those with disabilities. Nevertheless, it was only in the mid-nineties that a national policy on disability was first adopted, she said. In 1999, a semi autonomous body called the National Foundation for Development of the Disabled Persons, commonly referred to as the Jatiya Protibondhi Unnayan Foundation (JPUF), was established, she added.
Saima said, in 2001, Bangladesh enacted the first law concerning persons with disabilities and set up an inter-ministerial taskforce on disability which enabled the country to make signi?cant strides towards meeting the standards and objectives of the Committee on the Rights of Persons with Disabilities (CRPD).
In 2013, we updated the Disability Welfare Act, to make it further compatible with CRPD. The same year, we had the National Neurodevelopment Disorder Protection Trust Act enacted, which for the first time brought children affected by Autism and other NDDS under legal protection and institutional care, she added.
In parallel with our national efforts, we also took the initiative to create awareness about Autism Spectrum Disorder at the regional and international level. In July 2011, we hosted a major international conference in Dhaka in July 2011, she said.
"The government also took the initiative to create awareness about Autism Spectrum Disorder at the regional and international levels and formation of the South Asian Autism Network (SAAN), at an international seminar, brought autism to the forefront in the region and beyond." She said.
Bangladesh also took lead in the adoption of the first UN General Assembly Resolution on Addressing the Socioeconomic Needs of Individuals, Families and Societies Living with Autism Spectrum Disorders and other Developmental Disabilities on December 12, 2012, said Saima. Again, at the national level, NDD-related inclusive activities have been incorporated into the regular work of almost all development Ministries and agencies of the Government," she said.
It has been made mandatory for all early childhood centres to include at least two children with disabilities. The education ministry has also set up a National Autism and NDD Academy. The National Theatre has taken a decision to allow and encourage youth with Autism to participate in their regular productions, she further said. It is particularly encouraging to see that Autism and other NDDS have been given one-page coverage in the five year plan, 2016-2021. Working with rather limited resources, we have planned for inclusion and integration of persons with Autism and other NDDs in all aspects of our national development efforts.
"The PM is leading these efforts from the front. As a symbolic gesture, she uses the artwork done by children with Autism for her official greeting cards," she said. Though a medically diagnosable condition, Autism is not a disease that needs to be eradicated or cured, many people on the autism spectrum truly cherish their uniqueness and we all stand to benefit from their unique traits and capabilities, she said.
She said, however, it is important to acknowledge that it can be an ordeal emotionally, socially and financially for other members of the family and it is rare to hear that a family remains unchanged after receiving such a diagnosis. It is, therefore, crucial to comprehensively support this population and their family members, and help develop understanding and acceptance of the uniqueness and the variations in the skills and functionality of the individuals with Autism and other NDDS.
The policies and programmes developed to support them should also take this approach as its main point of departure. Bangladesh is a unique model, multi-faceted and multi-sectoral because it has been driven by political will and it is a direct response to the needs of the stakeholders, the individuals with neurodevelopment disorders and their families. Despite our innovative approach and international leadership in the area of autism, we still have signi?cant challenges. The unique Bangladesh model and the change it has brought about in our country has made one thing absolutely clear that addressing the needs of persons with disability is not so much about allocating more funds and developing new infrastructure as much as it is about removing unseen barriers and making policy decisions that are inclusive of the needs of the individual, she said.
Bangladesh can indeed take pride in the kind of national awareness and planning as well as international advocacy that it has invested in over the last seven years. it has become evident that mass awareness, backed by strong political will, can make a difference in the lives of those with autism and other challenges, but, without supportive legislation, institutional framework and adequate service system in place, long term, sustainable and positive change in the lives of those with Autism and other NDDS will not come about. In order to effectively address these challenges, we must look towards innovative, cost effective and sustainable planning, Saima suggested.
"This, we believe, will be the key to realizing the overarching objective of leaving 'no one behind' as envisioned by the 2030 Agenda for Sustainable Development. What we are trying to implement in Bangladesh, could provide a template for a global strategy for addressing Autism in the context of the Sustainable Development Goals (SD63)," she said.
"We are currently working with WHO at the regional level in Southeast Asia in that direction, which could be an important building block for comprehensive and far-reaching strategies for the international community as a whole," she added.