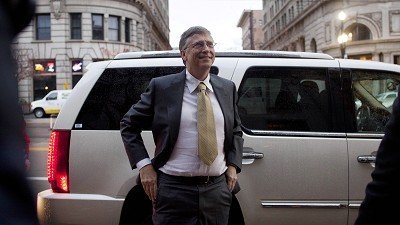 Microsoft boss Bill Gates has given evidence in a billion-dollar anti-competition case accusing the software maker of duping a competitor prior to launching Windows 95.
Mr Gates was the first witness as Microsoft lawyers presented their case in the trial that has been heard in federal court in Salt Lake City, Utah, for about a month.
Novell sued Microsoft in 2004, claiming the company violated US anti-competition laws through its arrangements with other computer makers when it launched Windows 95. Novell said it was later forced to sell its own program WordPerfect for a 1.2 billion dollar (£767 million) loss.
The company argues that Mr Gates, Microsoft's co-founder, ordered company engineers to reject WordPerfect as a Windows 95 application because he feared it was too good. WordPerfect's share of the market then plummeted from nearly 50% to less than 10% as Microsoft's own office programs took hold.
Novell lawyer Jeff Johnson has conceded that Microsoft was under no legal obligation to provide advance access to the Windows 95 operating system so Novell could prepare a compatible WordPerfect version. Microsoft, however, enticed Novell to work on a version, only to withdraw support months before Windows 95 hit the market, he said.
Microsoft lawyer David Tulchin said Mr Gates decided against installing WordPerfect because it threatened to crash Windows and could not be fixed in time. He argued that Novell's missed opportunity was its own fault, and that Microsoft had no obligation to give a competitor a leg up.
Mr Tulchin said: "Novell never complained to Microsoft. There's nothing in the evidence, no documents."
Mr Johnson maintains Novell was tricked in violation of federal laws so Microsoft could monopolise the market. "We got stabbed in the back," he said.
Microsoft is seeking a dismissal, calling the claims groundless.
Source : Orange News