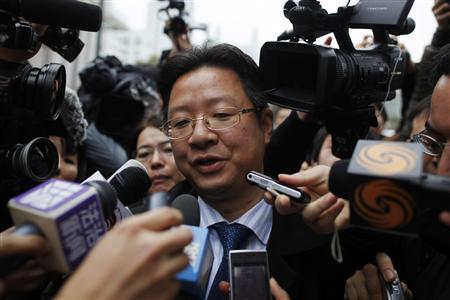 A Chinese technology firm sought to halt the sale of Apple Inc's iPads across the affluent city of Shanghai, arguing at a local court hearing on Wednesday that the U.S. firm had infringed on its trademark.
Previous court rulings in favor of Proview Technology (Shenzhen) have covered specific retailers in smaller cities, but a Shanghai order, if imposed, would eat into one of Apple's biggest markets in China.
Proview lawyers argued, at times emotionally, that an immediate halt of iPad sales be implemented in China's commercial hub, which is the home to three of the country's five Apple stores.
Apple defended its right to use the trademark in China and said Proview had no ability to produce or sell its own device under the same name.
"Proview has no product, no markets, no customers and no suppliers. It has nothing," Hu Jinnan, a partner at Guangdong Shendadi law firm, which is representing Apple in the case, told the court.
"Apple has huge sales in China. Its fans line up to buy Apple products. The ban, if executed, would not only hurt Apple sales but it would also hurt China's national interest."
The Shanghai Pudong New Area People's Court has not said when it will issue its decision, but Roger Xie, a partner at Grandall Legal Group representing Proview, said it was likely to be soon. Apple would in any case have the option to appeal should it lose.
Highlighting the strong interest in the case, some 100 reporters gathered around the court building while the hearing was taking place. Some local residents took the opportunity of the media attention to voice their own grievances over local authorities, holding up banners in front of the assembled TV cameras.
SERIES OF COURT BATTLES
Proview says it owns the iPad trademark in China and a Shenzhen court ruled in its favor last December.
Apple disputes Proview's ownership of the trademark, saying it bought the rights to the name in China from Proview in 2009. The firm has appealed against the Shenzhen judgment, with a higher court hearing set for February 29 in China's southern province of Guangdong.
Following the Shenzhen case, Proview has launched a multi-pronged approach to get Apple's iPads off the shelves in the world's second-biggest economy, with mixed success.
Xie reiterated that Proview is open to settle the case out of court with Apple.
"Both sides have willingness to negotiate," Xie told reporters outside the court.
"Official negotiation hasn't started yet, and both sides will submit their plans before the talks. A settlement outside the court is quite possible."
Apple's iPad has a huge lead over rival tablet PCs in China, with a 76 percent market share. It has three Apple retail stores in Shanghai, with the two other flagship stores in Beijing.
But it is not only the consumer market in China that is important for Apple because the country is also a major production base for the iPad and other Apple products.
Proview, a financially troubled technology company, has already petitioned Chinese customs to stop shipments of the iPad in and out of China, although authorities have indicated such a ban would be difficult to impose.
Over the past week, Proview's efforts have borne fruit as local media reported that some cities have started enforcing Proview's request to remove iPads.
Proview's lawyers said last week it had won a lawsuit in the southern city of Huizhou against a retailer selling Apple's iPads, possibly boding well for its case in Shanghai.
Proview's parent, Hong Kong-listed Proview International Holdings Ltd, was the first Taiwanese technology company to list in Hong Kong and by the end of the 1990s numbered itself among the top five computer monitor makers.
In 1999 it partnered with U.S. chip maker National Semiconductor to launch the I-PAD, a stripped-down desktop computer whose main selling points were its Internet connectivity and ease of use.
Proview continued to grow, shifting from computer monitors to become the world's third-largest OEM manufacturer of flat panel TVs. But by August 2009, when Apple began trademark talks through a proxy, Proview had been badly hammered by the financial crisis.
Source : Reuters