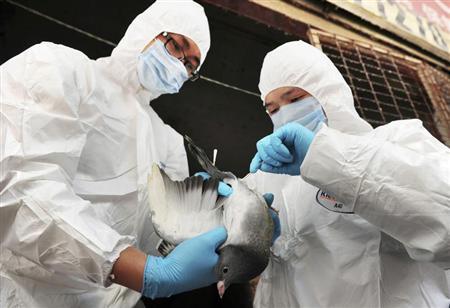 China on Saturday reported its first case of H7N9 bird flu in the southern province of Hunan, the latest sign the virus that has killed 23 people in the country is continuing to spread.
The official Xinhua news agency said the patient was a 64-year-old woman from Shaoyang city who developed a fever on April 14, four days after having contact with poultry. Her condition had improved with treatment, it added.
The flu was first detected in March. This week, the World Health Organization called the virus "one of the most lethal", and said it is more easily transmitted than an earlier strain that has killed hundreds around the world since 2003.
None of the 41 people who had come into contact with the newly-confirmed Hunan patient, identified only by the surname Guan, had shown symptoms, Xinhua said.
A 54-year-old man who fell ill in Jiangxi province was also being treated in Hunan, where he was diagnosed with H7N9, Xinhua said.
The Hunan cases come a day after the eastern province of Fujian reported its first case and during the same week that a man in Taiwan become the first case of the flu outside mainland China. He caught the flu while travelling in China.
Chinese scientists confirmed on Thursday that chickens had transmitted the flu to humans.
Source : Reuters