BLR Airport further achieved 2 million Air Traffic Movements (ATMs) since AOD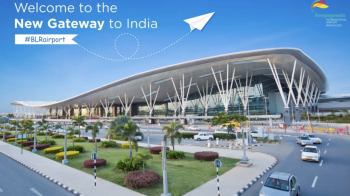 #thenewscompany : Kempegowda International Airport, Bengaluru (BLR Airport) has achieved a significant milestone by crossing the 250 million passenger mark since the launch of its operations or Airport Opening Day (AOD),during the last weekend of June 2022. An additional 50 million passengers travelled from BLR Airport in a span of nearly three years despite the pandemic and consequential slowdown. Furthermore, BLR Airport also achieved the milestone of 2 million Air Traffic Movements (ATMs) since AOD, making it the fastest Public-Private Partnership(PPP) airport in South India to achieve this milestone.
The addition of new carriers in conjunction with the introduction of new routes and rising passenger numbers on existing routes has led to this noteworthy accomplishment.While the pandemic has meant that traffic growth over the past two years has been slower than usual, BLR Airport has historically grown very fast, as evidenced by how quickly the Airport has reached some of these milestones.
Hari Marar, MD & CEO, Bangalore International Airport Ltd (BIAL), said, "Reaching the 250 million milestone reassures us that our customer-centric approach, innovation andtechnically advanced infrastructure, in conjunction withthe introduction of new routes and working closely with our airline partners and other stakeholdershave ledto consistent growth at BLR Airport. The milestone that we have achieved in such a short span is proof of our dedicated efforts to introduce the best to our passengers."
To create an exceptional travel experience for passengers, BLR Airport offers world-class infrastructure and facilities. Passengers can experience the best of hospitality at the newly launched 080 lounges and Transit Hotelduring their stopover at the Airport. With the opening of the state-of-the-art Terminal 2, BLR Airport aims to become the 'New Gateway to India'.
BLR airport was voted recently by passengers as the 'Best Regional Airport in India and South Asia' at the 2022 Skytrax World Airport Awards.