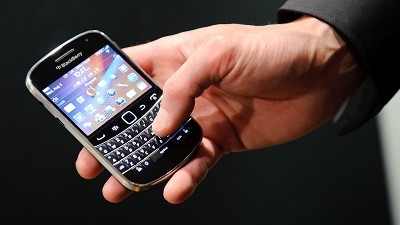 BlackBerry services have been restored after a fresh round of disruptions hit users of the smartphone. Research in Motion (RIM) – the embattled firm behind the gadgets – said services were back to normal after some of its users had problems with their service, with UK customers reportedly among those affected.
Friday's disruptions came after a hardware "outage" left millions of people unable to access email, surf the web or use BlackBerry Messenger over three days in October last year.
RIM's announcement of more problems came as thousands of technology enthusiasts queued outside UK stores to get their hands on the newly released iPhone 5 by arch-rival Apple.
In a statement, a spokeswoman for RIM said: "Some users experienced issues with BlackBerry services today. Apologies for any inconvenience caused. All services are now operating normally." The spokeswoman said it was still not clear what type of problems customers had faced or the extent of disruption for users in the UK.
Last year's crash was caused by the failure of a dual redundant high capacity course switch designed to protect BlackBerry's infrastructure. RIM's shares fell to a nine-year low in June after Morgan Stanley downgraded the stock, saying the company's challenges were piling up.
The Canadian firm's chief executive, Thorsten Heins, told a shareholders' meeting in July that he is not satisfied with the company's performance after it announced disappointing earnings, plans to cut 30% of its workforce and further delays to the release of its new BlackBerry 10 device.
BlackBerry has so far failed to keep up with the demands of consumers who want smartphones that go beyond handling email and phone calls, according to experts.
Mr Heins apologised to customers who had suffered disruption. He said in a statement: "I want to apologise to those BlackBerry customers in Europe and Africa who experienced an impact in their quality of service earlier this morning. The BlackBerry service is now fully restored and I can report that no data or messages were lost. Up to 6% of our user base may have been impacted.
"Preliminary analysis suggests that those customers may have experienced a maximum delay of three hours in the delivery and reception of their messages. We are conducting a full technical analysis of this quality of service issue and will report as soon as it concludes. I again want to apologise to those customers who were impacted today."
Source : Orange News