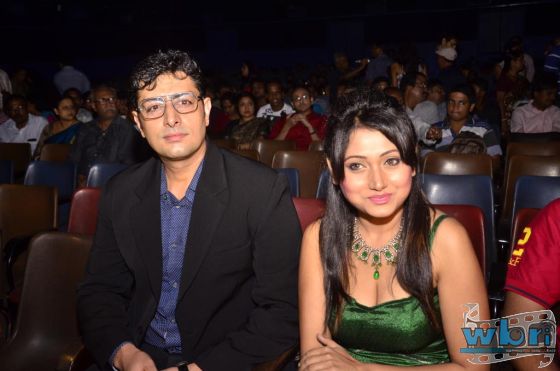 e-News® | The NEWS Company… : The grand Premiere of 'Ei Raat Tomar Amar' was recently held at Priya Cinema Hall in the presence of number eminent persons from the Tinsel Town along with the cast and crew of the movie.
The starry affair took the audience and guests on cloud 9 as the lead cast Priyanshu Chatterjee and Meghna Halder stepped in at the venue. Priyanshu stole the show with his mesmerising persona which has not faded even a bit since he wooed everyone with that stunning aura as he debuted in Bollwood flick 'Tum Bin' years back. Meghna too complimented him well as she grabbed all eyeballs in a revealing green top paired with a pink skirt. The two lead actors of the film posed merrily for the shutterbugs. Soon it was time for the cast and crew to take the stage as Soumya and Supriya, the director duo started the introduction part. Soumya took the charge of the microphone and thanked all the guests , celebrities, associates and media assembled there. After an appeal to watch and support the movie, he passed on the mike to Priyanshu Chatterjee. The handsome hunk said, "After a long gap I a Bengali movie of mine is releasing. It has been a very different attempt by the two directors and it was quite challenging to be inspired from one poem and make a full length movie. Please watch the movie as this deals with something which you may not have seen before on screen."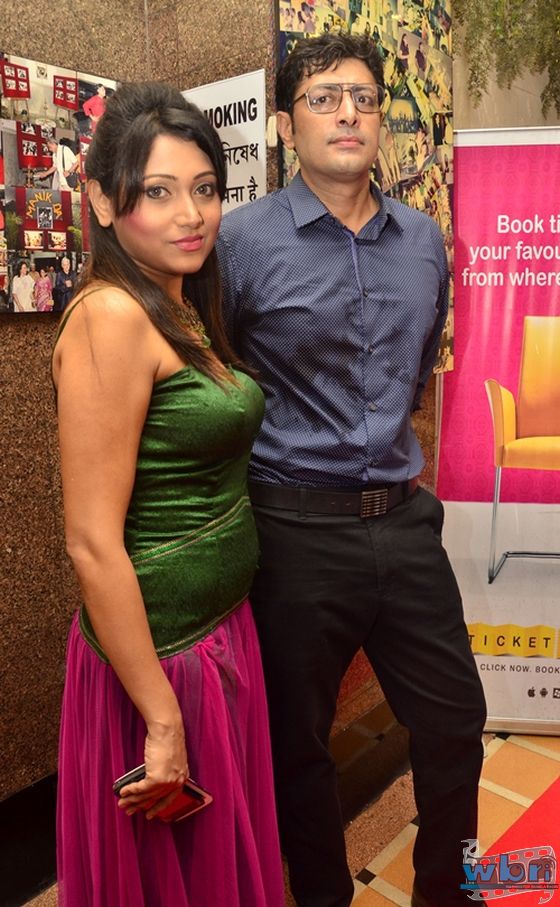 Meghna Halder, the lead actress said, "I am lucky to have worked with Priyanshu in this film. My character is very unique in the film and I have given my best to portray it. I am sure you will like the film very much." The premiere also saw the attendance of ace director Goutam Ghose who had made the previous Bengali film Starring Priyanshu Chatterjee.
Aryann Bhowmick, the young actor who is known for his continuing chemistry with Tollywood superstar Prosenjit Chatterjee in films like 'Chalo Paltai', 'Mishwar Rohoshyo', and upcoming big budget project 'Force'. The actor who is being considered by many as the next big thing seemed to enjoy the premiere thoroughly.
Designer and pianist Rajlakshmi Ghosh was seen glamming up the occasion in one of her elite collection of saree. "I am looking forward to have a wonderful visual treat from the new generation director duo. It is really wonderful to see the young generation filmmakers are coming up with out of the box concepts."