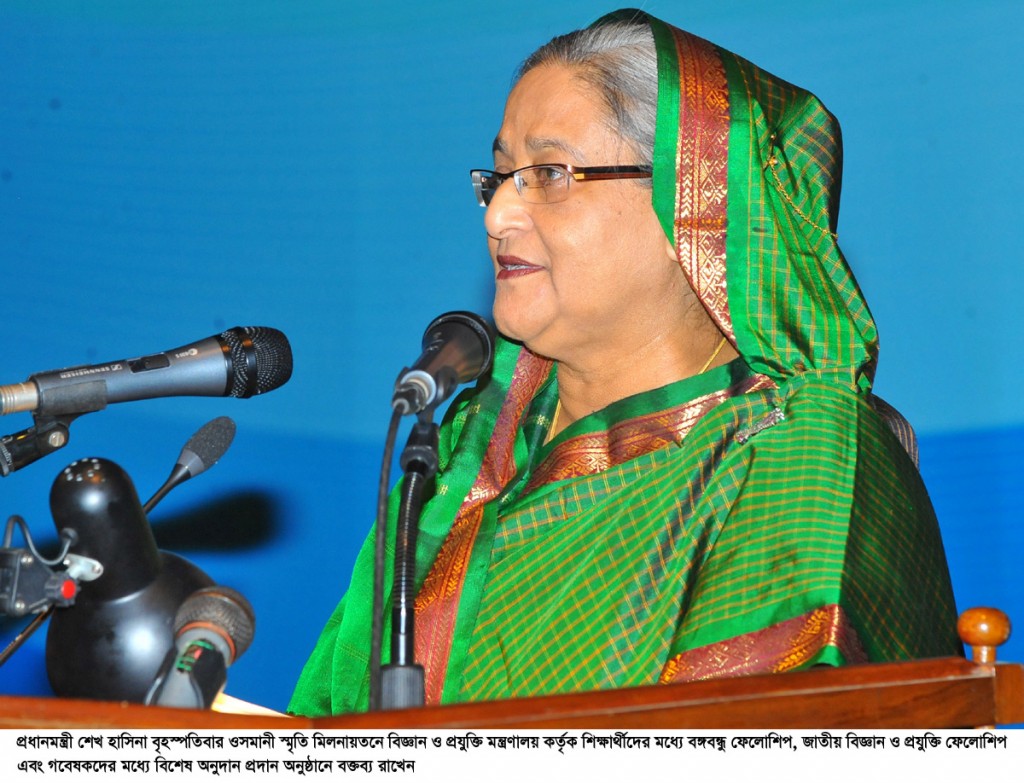 e-News® | The NEWS Company…DHAKA, March 19, 2015 : Prime Minister Sheikh Hasina today firmly said the people of Bangladesh would tackle the prevailing obstacles with the courage and strength like 1971 to take forward the country in every spheres including science and technology.
"We are now facing some problems. Children are barred from attending their exams. A clique of evil force in the name of siege and hartal is creating the obstacles. But people of Bangladesh have the strength and courage to overcome any barrier," she said.
The Prime Minister said this while distributing this year's Bangabandhu Fellowship, National Science and Technology (NST) Fellowship and research donation among students and researchers at a function at Osmani Memorial Hall here.
The Prime Minister lamented criticisms of a vested section against her government saying those people even criticized us when Bangladesh qualified for test match. Now Bangladesh is showing its capacity with defeating cricket giant England and sweeping to quarterfinals round. "One day we will surely win the world cup," she said with rapturous applause of the audience as news broke out after the fall of India's third wicket in the quarterfinal match with Bangladesh at Melbourne Cricket Council (MCC) ground.
"Bangladesh is going ahead and Bangladesh will go ahead. None will be able to hinder the advancement of the nation," Sheikh Hasina said.
A total of 222 persons were given Bangabandhu Fellowship for their post graduate studies in science and technology at home and abroad for the period from July 2010 to December 2016 while 1343 students and researchers were awarded NST Fellowship in 2014-2015.
Besides, donations were given to 73 students and researchers in the category of 'Technology Innovation and Research and development Project', 62 organizations working with science and 35 private secondary and higher secondary schools this year. Special donation was given to 330 scientists and researchers to encourage them in scientific research.
State Minister for Science and Technology Yafez Osman presided over the function while chairman of the Parliamentary Standing Committee on the Ministry of Science and Technology Dr Ruhal Haq and secretary of the ministry Khandakar Asaduzzaman also spoke on the occasion.
Laying importance on scientific studies, practice of science and knowledge, the Prime Minister said, "Science is linked with everything. None can move by ignoring science. A country cannot progress without its development in the area of science and technology, she added. Congratulating the recipients of the fellowship and donations, the Prime Minister urged them for conducting their research with utmost devotion and responsibility.
"The fellowship and donations are being provided from the taxes of the poor people of Bangladesh. So I hope you will ensure maximum utilization of the public money," she hoped. Prime Minister Sheikh Hasina said after independence Father of the Nation Bangabandhu Sheikh Mujibur Rahman had undertaken multipurpose programmes for taking forward the country in science and technology. Among those, she said, atomic commission was upgraded, industrial research was strengthened and green revolution was implemented apart from giving importance to agricultural research.
Bangabandhu established Bangladesh Centre for Science and Industrial Research (BCSIR) in 1973 and separate institutes including the agricultural research council were founded for research on rice, jute and fisheries, she said.
Sheikh Hasina said her government wants to build a nation based on scientific knowledge and mentality. In view of this, she said, the government has introduced the Taka 86 crore 'Bangabandhu Fellowship in Science and ICT' to create competent and knowledgeable scientists, technologists and researchers. Besides, fellowships are being provided from the Ministry of Science and Technology for M Phil, Phd. and post doctoral studies.
The Prime Minister said her government has distributed over Taka 23.30 crore among 3,434 students during the period from 2009-2010 to 2013-2014. Besides, a total of taka 49.30 crore donations were given for 1,115 research projects. The government earmarked taka 12.40 crore for research in the current fiscal, she said.
Sheikh Hasina said her government also has given utmost priority to science and technology based education at school level. Subjects relating the science and information technology are being included in the curriculum of primary and secondary schools. The government has a plan to make science education compulsory from primary level, she said.
The Prime Minister said government support to scientific research and studies have already yielded result. Invention of genome sequence of jute by Bangladesh has opened up new opportunity for jute sector. Software invented by Bangladeshi engineers has earned appreciation from abroad, she said.
Sheikh Hasina said government support to scientific research also contributed to Bangladesh's success in achieving self-sufficiency in food production and completion of a study on Black Bengal Goat, invention salinity tolerant variety of rice and environment friendly fertilizer. Considering the limited resources of the country, we have to proceed with proper management of the resources along with their economic and sustainable use, the prime minister said.