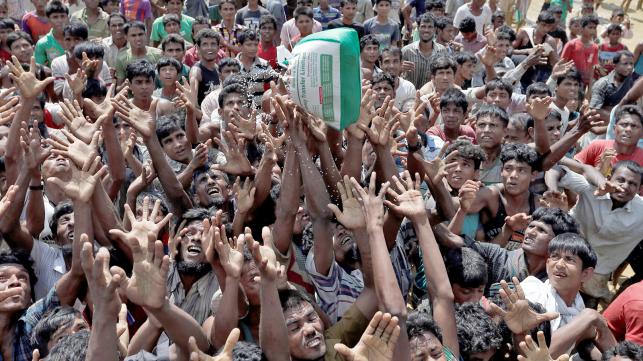 #thenewscompany : To bring discipline in aid operation for Rohingyas those took shelter recently fleeing the atrocities in Myanmar, members of Bangladesh Army yesterday joined the activities, setting up control room at Ukhiya Degree College.
"We have started to work to bring the aid collection and distribution activities under a chain of command. We have already inspected different refugee camps and also received aid consignments coming from different places. We also set up our control room at Ukhiya Degree College to preserve the relief materials," Major Rashed Akter, one of the coordinators of army aid distribution cell, told BSS.
Army today received 20-30 trucks full of aid sent by different people and companies and kept those in their control room. According to the sources, army will start aid distribution from today.
Alongside the army, district administration will continue their aid distribution in five refugee camps erected in Teknaf and seven in Ukhiya.
"If any international agency wants to distribute their aid directly to the refugees, we will not obstruct them," Major Akter added.
Meanwhile, the refugees in Kutupalong camp are very much happy with the flow of aid, saying they are satisfied with the relief operation run by the government.
"We are receiving adequate aid including food and medicine," said Amena Khatun of the Kutupalong camp.
The Rohingyas, who have taken shelter at foot of different hills outside the camps, however, said they are facing difficulties in receiving aid.
Army officials said they would soon bring these refugees to camps, ensuring proper care and aid to them.