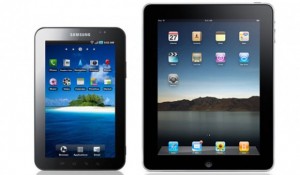 An Australian court is now expected to rule next week on Apple's plea to temporarily ban sales of Samsung Electronics Co latest computer tablet on grounds that it infringed on its iPad patents.
Lawyers for both companies wrapped up arguments on Tuesday at an Australian federal court and Judge Annabelle Bennett said a decision would take some time but she would aim to deliver it as quickly as possible.
Lawyers had hoped for a decision this week but by Friday there was no judgment.
Apple is seeking a temporary ban on sales of Samsung Galaxy 10.1 tablets citing infringement of its touch screen technology patent, ahead of a final hearing.
Apple says Samsung's Galaxy line of mobile phones and tablets "slavishly" copied its iPhone and iPad and has launched an international legal battle which is expected to hurt growth at one of Samsung's fastest-growing businesses.
Samsung, whose Galaxy gadgets are seen as a major threat to Apple's devices, rejects the claims and hopes it gets a quick favorable ruling so that its Galaxy 10.1 tablets can reach customers in time for the Christmas gifting season.
A spokesman for the federal court declined comment.
Source : Reuters