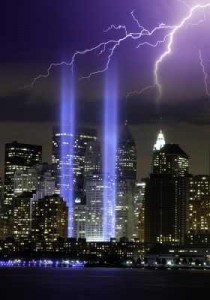 September 11, 2001 is the day the world stood still. This weekend marks its tenth anniversary and out of this devastation and loss of life, I wanted to show something special; how the human spirit has prevailed through Cantor Fitzgerald's commitment to be socially responsible. So, I invite you to come with me to Cantor Fitzgerald, a company that saw two-thirds of its workforce killed and its own survival put in jeopardy. Twins Lauren and Briana Grazioso lost their father Tim at work. Tim Grazioso was Cantor's chief operating officer on the 104th and was one of 2,996 people killed that Tuesday morning. The Cantor's offices spanned floors 101-105 in the north tower.
Today, Lauren and Briana are on the verge of a career with Cantor. This summer they went to see Cantor's CEO and Chairman Howard Lutnick, whose own brother was among the 658 employees who lost their lives. Surprisingly, more than 20 children of 9/11 have joined Cantor Fitzgerald or its sister company BGC partners as either full-time employees or interns. Mr Lutnick says, "Nothing can make me feel more proud of what we have achieved that a son or daughter would want to come and work at Cantor Fitzgerald where their father or mother lost their life. That means we have created such a positive with not only that child, but also their surviving parent."
I know it may be debated of how socially responsible is Cantor…though I think in this instance it has come up trumps. The fund has distributed more than $250m (155m) in the ten years since it began through a combination of corporate giving, Cantor 'charity days' and other donations. On October 10 2001, Cantor announced it would distribute 25pc of the partnership's profits for the next five years as well as using company funds to pay for health care to bereaved families. By the middle of October, Cantor had paid out some $45m to families. To date, some $180m has been distributed to the families of those who died, creating a strong bond between those left behind and the company itself.
Source : ENN