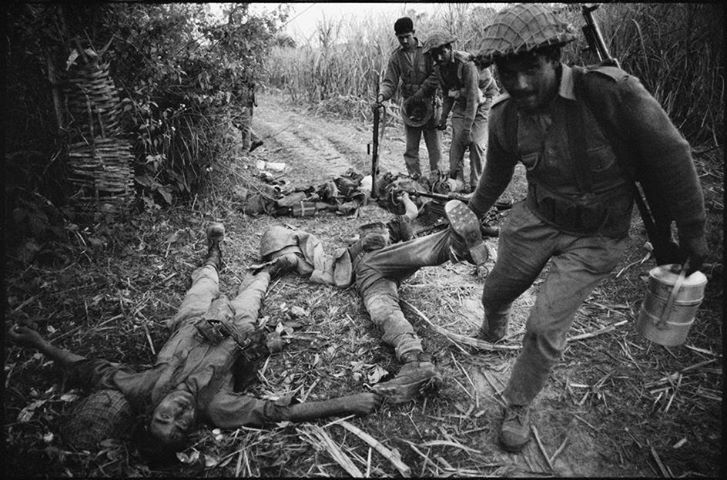 e-News® | The NEWS Company…FARIDPUR, Dec 8, 2015 : After the fall of Jessore cantonment the Pakistani army started retreating to rear headquarter in Faridpur crossing the river Madhumati at Kamarkhali-Magura border. The Pak army started consolidating their strength from different angles. But the brave Mukti Bahini' laid ambushes at different points on Kamarkhali-Faridpur road causing casualties and material losses to the invaders.
On December 9 in 1971, a group of FFs numbering about forty led by valiant FF commander Kazi Salauddin Nasim attacked a retreating Pak army van near Karimpur bridge causing heavy losses to them(Pakistani army). But unfortunately a column of convoy rushed to the spot. The group of the FF on strategic reason retreated and took position at the village Dhopadanga Chandpur. The Pak army followed the FFs and geared their position. An unequal battle ensued between a small Muktibahini contingent and a large number of Pak army with superior arms and ammunition.
MuktiBahini with the zeal of sacrificing their lives for the motherland resisted the invaders for a few hours but finally they gave in. Leader of this contingent Kazi Salauddin Nasim, Mesbahuddin Nowfel, Abdul Wahab, Shamsuddin Molla, Mainuddin, Abdul Hamid and Mujibur Rahman, all the college students embraced martyrdom in the Karimpur battle. The Pak army set ablaze the house where the injured Salauddin and Nowfel took shelter. Another prominent Muktibahini leader Hemayetuddin who reinforced Salauddin during the battle also received serious bullet injury on his thumb.
Momin and Tabibur Rahman were also injured in the battle. Later Freedom Fighter Hemayetuddin became a secretary to the Bangladesh government. However the other members of Muktibahini Idris Molla, Dr. Runu, Abu Bakar Siddique, Aminur Rahman Farid, Kazi Fariduddin(younger brother of Salauddin) survived the tragedy of Karimpur battle. Aminur Rahman Farid , a sports organizer told BSS that it was a big loss for the Mukti Bahini at the fag end of the war. Farid, an active participant in Karimpur battle further said that the burnt remains of the bodies of the martyred Muktibahini were later buried in Alipur graveyard of the town after the victory on December 16, 1971.