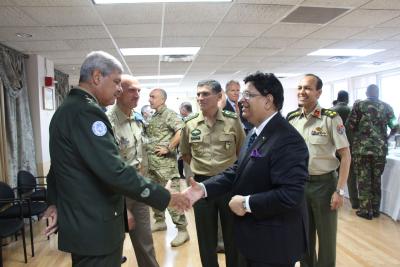 e-News® | The NEWS Company…DHAKA, June 17, 2015 :  Seventeen Force Commanders of all the current UN Peacekeeping missions attended a reception on Tuesday at the permanent mission of Bangladesh, said a release received here today. The commanders have been attending a four-day long heads of Military Component Conference titled "Performance: A Command Responsibly" that started yesterday at the UN headquarters to enhancing performance of the overall peacekeeping operations.
The permanent representative of Bangladesh to the UN Dr A K Abdul Momen said that Prime Minister Sheikh Hasina attaches a very high priority in the UN peacekeeping efforts and had responded promptly and positively to the UN's call for more peacekeepers as a trusted partner of the UN in the field of peacekeeping.
The defence adviser of the permanent mission Brig. General AKM Akhtaruzzaman made a presentation at the inaugural day on "Troop Contributing Country's Perspective". Defence advisors in the permanent missions of various countries including the US, India, Italy, the UK, Canada and Germany also attended the reception.