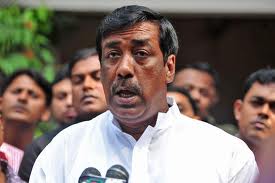 Narayanganj, Oct 31 – Shamim Osman, the Awami League-backed mayoral contender, has greeted his rival Selina Hayat Ivy who has been elected the Narayanganj City Corporation mayor.
Making a sharp reversal to his previous claims of irregularities in the vote, Shamim said on Monday the election was free and fair.
The announcement apparently gave some relief to the high-ups of the ruling party that made many confusing and disputed steps to choose a candidate for backing.
"The election was fair. Greetings for younger sister Ivy," Shamim told a press conference, the first after the results were announced Sunday night.
He promised to help the new mayor for Narayanganj City's development.
An hour before Shamim's press conference, Ivy told that she wants to work with Shamim and BNP-backed Taimur Alam Khandaker, who had boycotted the election in the last minute.
Shamim also withdrew the complaints he made during the election on Sunday. "I have no complaint against anyone."
On Sunday noon, he alleged that votes had been rigged with black money.
"The complaints were coming from different sources. I couldn't check them all," he said on Monday.
Ivy defeated Shaim by 101,343 votes. She polled 180,048 votes in 163 polling centres while Shamim secured 78,705 votes.
Source : BD News24